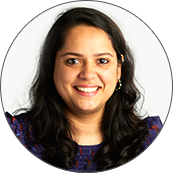 Ankita Awasthi
Customer Service Coordinator
Ankita Awasthi, customer service coordinator, is an experienced manager and coordinator who is a member of ISTE's Customer Knowledge Team. She provides administrative support, maintains database integrity and is the link between the team and ISTE staff.

She holds a bachelor's degree in sociology from the University of Delhi and a master's in development studies from SOAS, University of London.

Ankita is passionate about making connections with people and doing impactful work.