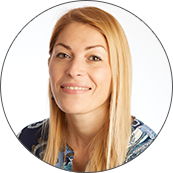 Boyka Parfitt
Manager of Government & External Relations
Boyka Parfitt, manager of government and external relations, joined ISTE's advocacy team in 2016 with strong desire to be part of a mission-driven organization and make a difference. Currently, she manages ISTE's ongoing advocacy projects and coordinates the organization's federal and state government relations work. Boyka works closely with domestic and international partners and stakeholders. She is passionate about advocating for policies that bring meaningful change in education.
Prior to working at ISTE, Boyka was a contracts specialist for a federal government contractor where she negotiated awards for international projects. She has extensive experience in banking and has worked for law firms in the U.S. and abroad.
She holds a bachelor's degree in law from the University of National and World Economy in Sofia, Bulgaria, and a bachelor's in business from University of Phoenix.