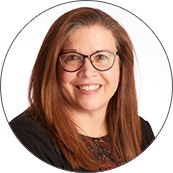 Carolyn Sykora
Senior Director of ISTE Standards Programs
Carolyn Sykora, senior director of ISTE Standards programs, has more than 20 years of experience in education leadership and program management for nonprofits. She leads efforts to promote the adoption and implementation of the ISTE Standards in K-12 and in teacher preparation programs.
Carolyn specializes in project and program leadership for products and services that serve school and district leaders, technology coaches and classroom teachers. She has designed and delivered onsite and online professional learning and is a frequent presenter at conferences. Carolyn also advises other standards development organizations, state agencies and international bodies on implementation of the ISTE Standards and alignment to the ISTE Standards.

Prior to joining ISTE, Carolyn was the education director at the Environmental Law Alliance Worldwide, a nongovernmental organization that assists environmental, indigenous and human rights attorneys with science and legal support to protect our fragile environment. She also served as a high school chemistry, physics and math teacher as a Peace Corps volunteer in Fiji.
She holds a bachelor's degree from the College of Science and Technology at the University of Wisconsin -- Green Bay.