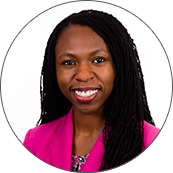 Fatima Jibril
Senior Director of Online Professional Learning
Fatima Jibril, senior director of online professional learning, leads professional development initiatives that cultivate digital age teaching and learning through strategic partnerships and stakeholder engagement.

Prior to joining ISTE, Fatima was an Education Pioneer Fellow for the U.S. Department of Education's Office of Educational Technology where she led edtech developer outreach, education innovation clusters and rapid cycle evaluations.

Pursuing her passion for K-12 education, Fatima served as curriculum director for Calvert Education and as an instructional designer for Maryland Public Television, producing content for professional learning courses for educators as well as a number of interactive STEM, English language arts and math websites featured on Thinkport and PBS Learning Media. Fatima co-founded Creative City Public Charter School, a progressive place-based arts-integrated elementary school in Baltimore City. She also launched an alternative teacher certification provider through The New Teacher Project, emphasizing backward design and culturally relevant teaching.

Fatima entered the field as a second grade teacher through Teach for America in 2001 and has been on a mission to drive innovation in education ever since. She earned a bachelor's degree from Cornell University a master's from Johns Hopkins University.