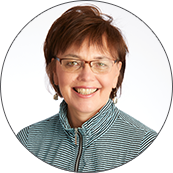 Janis Johnston
Project Manager
Janis Johnston has led special projects in ISTE's office of the CEO since 2014.
She's had a 30-year career in nonprofits focused on education and child advocacy. Prior to coming to ISTE, she worked in the conferences department at the National School Boards Association with its corporate sponsorship program.
A native of the San Francisco Bay Area, Janis moved to Washington, D.C., in 1988 where she began a nine-year tenure with the Children's Defense Fund (CDF), managing the design and production of its many publications and products. After CDF, she spent three years at BoardSource, a nonprofit governance education organization, where she directed the development of new book titles, produced videos and created other learning resources for the nonprofit community.
She received a bachelor's in journalism from California State University, Sacramento, and lives and works in Arlington, Virginia.