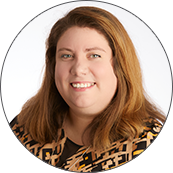 Chief Events & Marketing Officer
Jennifer Ragan-Fore, chief events and marketing officer, is an association and events professional with overall responsibility for the content and logistics of the ISTE Conference & Expo, including event strategy, general session production, program content, citywide site selection and information delivery. She leads a talented team of internal event staff, partners and specialized contractors in all phases of event design and execution.

Jennifer has served ISTE in a variety of membership and conference roles. In 2005, she worked as director of special interest group and then progressed to general membership director, director of new media and member communities, and most recently, senior director of conference services. In each of these roles, she's had the good fortune to work closely with amazing members, volunteers and presenters who are transforming education.

Some of Jennifer's key ISTE accomplishments include the launch of ISTE's Second Life community and television series, creation of ISTE's webinar series and significant growth in ISTE's conference attendance and programming.

Prior to joining ISTE, Jennifer worked in event-focused roles within higher education at Northwestern University, Emory University and the University of Washington (UW). At UW, Jennifer was responsible for the launch of a public-private outreach center that brought Seattle's corporate and academic communities together, and for the launch of a national executive conference, production of a television series that aired on the Research Channel and creation of a research magazine.

Jennifer has a bachelor's degree from Northwestern University's School of Communication with a double major in performance studies and anthropology. She serves on three industry boards including Visit Denver, Visit San Antonio and Maritz Travel.