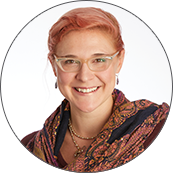 MacKenzie Rawcliffe
Digital Marketing Manager
MacKenzie Rawcliffe, digital marketing manager, works in front-end development, user experience, analytics and email development for ISTE.
She joined ISTE in 2016, previously working in email and web development for the American Forest Foundation and Everyday Ambassador, as well as other media and project management positions.
MacKenzie has a master's of public administration and a master's in international affairs from the University of Maine Orono. She also loves BTS.