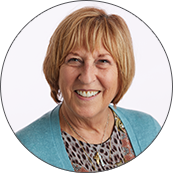 Nancy Hawthorne
Senior Manager of Events Projects
Nancy Hawthorne, senior manager of events projects, wears many different hats in her role with ISTE. She manages event sponsorship fulfillment, serves as liaison to ISTE's exhibits program and project manages information and communication vehicles across all events, including printed collateral, attendee maps, signage and décor. She also leads the planning and coordination of appreciation initiatives for volunteers, sponsors and the program team.

Nancy joined ISTE in 2001, bringing outstanding project management, negotiation and communication skills. She says her job allows her to leverage her strengths: building strong relationships, ensuring clear communication and injecting a wicked sense of humor.

In her free time, Nancy enjoys the company of good friends, gardening, cooking, haunting vintage secondhand stores and taking care of her tribe of animals.