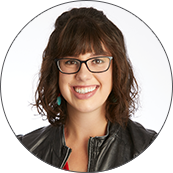 Samantha Mack
Education Portfolio Marketing Manager
Samantha Mack, education portfolio marketing manager, manages stakeholder relationships, develops marketing campaigns and manages reporting for ISTE's various marketing initiatives, digital campaigns and website projects.
Throughout her career, she's worked in a variety of education-related roles, including as a writing coach, student adviser and graduate recruitment specialist.
Samantha is passionate about education as a catalyst for positive change and is thrilled to serve ISTE's vision of accelerating innovation for teachers and learners to reach their greatest potential.