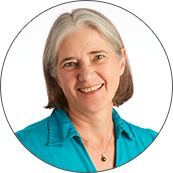 Susan Nay
Director of Human Resources
Susan Nay, director of human resources, is an experienced business professional who has earned Professional in Human Resources and Society for Human Resource Management Certified Professional certifications. In addition to leading the HR function at ISTE, Sue also manages the organization's busy contracts department.
Sue has a bachelor's of science degree in chemical physics from Surrey University and a diploma in management studies from Kingston University, both in the United Kingdom.
Her professional experience includes technical editing, consultancy administration, event management, resource management and executive support. She has also been a physics and math teacher.