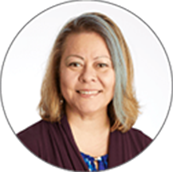 Yolanda Ramos
Senior Regional Director for the Americas
Yolanda Ramos, senior regional director of for the Americas, leads the development, implementation, assessment and profitability of high-quality professional learning and consulting services to meet the needs of educators using technology to support teaching, learning and leadership.
She has significant experience in designing and building solutions, strategic relationships and executing collaborative partnerships in the corporate, nongovernmental organizations and public sector. She also designs national and international edtech initiatives and programs supported with on-demand professional learning services and coaching support networks, and is an ambassador for digital age skills development and the adoption of educational technology standards for leading, teaching and learning.
Yolanda also has worked with K-12, higher ed and corporate sectors in the U.S. and with Ministries of Education in Latin America and the West Indies. She has held roles as an assistant professor and director of the Title VII Bilingual Education Graduate Fellowship and Hispanics in Teaching programs at Penn State, assistant secretary of education for academic services at the Puerto Rico Department of Education, director of bilingual education programs at Bridgeport Public Schools in Connecticut and director of the TRIO Student Support Services Program at the Inter American University of Puerto Rico. She also has 12 years of management experience in the IT software industry.
Yolanda has a doctorate and a master's degree in curriculum and instruction with a focus on second language acquisition, bilingual and multicultural education, supervision and adult education from Penn State University.