President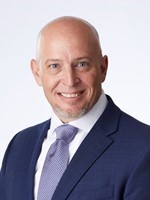 Bill Bass currently serves as the innovation coordinator for instructional technology, information and library media for the Parkway School District in St. Louis, Missouri.

During his over 20-year career in education, he has also held positions as a middle and high school English teacher, technology integration specialist, instructional coach and educational consultant. As a speaker, writer and professional developer, he focuses on systemic and sustainable integration of technology into classrooms at all grade levels and seeks to empower students and teachers with authentic learning experiences.

Bill holds a master's degree instructional technology and a certificate of online learning from Southern Illinois University Edwardsville, as well as a bachelor's degree in English from Culver-Stockton College.

He has served as co-president of the Educational Technology Association of Greater St. Louis, an ISTE affiliate, and is past president of the ISTE Innovative Learning Professional Learning Network (PLN). Bill also is a member of the Midwest Education Technology Community (METC) leadership committee and a leader of the Google Educator Group of Eastern Missouri. He is a Google Certified Innovator, a Google for Education Certified Trainer, a Common Sense Media Certified Trainer and a past member of the National Council for Teacher Education (NCTE) Executive Committee.

Bill is often called upon to share his thinking as a speaker and presenter, and has been fortunate to learn with educators from around the world. He has also written numerous articles and book chapters, and has authored two books, From Inspiration to Red Carpet and Digital Reading: What's essential in grades 3-8.
Innovation Coordinator
Parkway School District
Saint Louis, MT
United States
Committees
ISTE Board of Directors
Board Nominations Committee
Executive Compensation Committee
Governance Leadership Committee