Jan Zanetis Secretary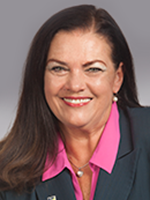 Jan Zanetis spent 20 years in K-12 and higher education as an educator and university administrator.

In 2005, she moved into the corporate sector as an education specialist, first for TANDBERG and then Cisco Systems. In 2013, she began her current role as the managing director at the Center for Interactive Learning and Collaboration.

Jan's area of expertise is the application of video technologies in education. She has written extensively on this topic for education journals and has co-authored two books.

Jan is an active member of several professional organizations, including ISTE, the United States Distance Learning Association (USDLA) and the Consortium for School Networking (CoSN). She often presents at educational conferences, regionally, nationally and internationally. In 2015, Jan was awarded the coveted Making IT Happen award from ISTE.

Jan holds a bachelor's of science from Vanderbilt University in elementary/special education and a master's of education from Tennessee State University.
Managing Director
Center for Interactive Learning and Collaboration
Louisville, KY
United States
I'm a speaker!
I speak on the following topics:
Distance education in all forms
Use of live and recorded video
Flipped learning
Global collaborative projects

If you're interested in having me speak at your event, please email me.