Karen Swift Treasurer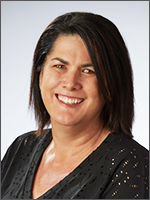 Karen Swift is the head of faculty and a classroom teacher at James Nash State High School in Gympie, Australia. Using face-to-face and digital platforms, she has extended her reach beyond her classroom and earned an advanced digital pedagogy license, the highest eLearning teacher and leader qualification in Queensland.
As a role model, Karen's portfolio is packed with presentations at international conferences, mentoring and overseeing regional programs that support the transition to 1:1 and BYOD learning environments. She was a natural choice to win the Education Queensland Smart Classrooms Teacher Award in 2009, the 2013 Queensland Society for Information Technology in Education Emerging Leader of the Year Award; the 2014 ISTE Making IT Happen Award and the 2014 and 2017 ISTE Volunteer Service Award, Gold Level.
Karen has also contributed to national projects for the Australian Curriculum, Assessment and Reporting Authority, the Australian Institute for Teaching and School Leadership, and Education Services Australia. As Queensland's curriculum and assessment authority state panel chair for economics since 2005, Karen has significantly contributed to the current statewide economics curriculum, school-based assessment and moderation processes for all Queensland secondary school sectors.
During 2013 and 2014, Karen combined her love for travel and education by planning, coordinating and leading the Australian Council for Computers in Education (ACCE) international study tours to U.S.-based IT corporate headquarters and education facilities, and the ISTE Conference & Expo. Karen has served ISTE as a 2014 Ballot Selection Committee member, is a current Queensland Society for Information Technology in Education (QSITE) board member, and was program coordinator for the 2016 ACCE conference.
Karen has served on the ISTE Board of Directors since April 2016 and was elected as ISTE Board Treasurer for 2018.
Business and Digital Technologies
James Nash State High School
I'm a speaker!
I speak on the following topics: