Member-at-Large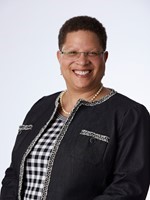 Julianne Ross-Kleinmann is passionate about instructional technology to support teaching and learning, sharing what she's learned with others and community service -- her focus for over 30 years as a member of Delta Sigma Theta Inc.

An educator for over a quarter century, Julianne was introduced to the Logo programming language in the 1980s. Little did she know that connection would lead to an ongoing partnership with the Logo Foundation as a volunteer for Scratch Day events for close to a decade in New York City and Connecticut.

Julianne formally started teaching technology in the 1990s, at which time she became an ISTE member. She's a frequent presenter at conferences and schools on topics including technology applications, integration and troubleshooting, rubrics and assessment, STEM, makerspaces and room design. Her favorite presentations have involved co-presenting with her students on topics relating to computational thinking using the Scratch and Scratch Jr. programming languages.

Julianne is currently an Instructional Specialist for the Ulster County Board of Cooperative Educational Services (BOCES) in New Paltz, New York. Her previous roles include lower school technology coordinator at an independent school in New Haven, Connecticut; instructor for a Summer Institute for the Gifted program; lower school director at a charter school in Harlem, New York; instructional technology facilitator in Ramapo Public Schools in New Jersey; elementary assistant principal in Connecticut; literacy consultant for a charter school management company in New York City; and staff developer in Yonkers Public Schools in New York..

Julianne was an adjunct professor in the School of Education at William Paterson University and at Manhattanville College, teaching preservice graduate courses in education history, literacy, reading practicum and multiculturalism. She is an Apple Teacher, Certified BrainPOP Educator (CBE), Google Level I Certified Educator, ISTE Mobile Learning Network 2017 Excellence Award Winner and past chair of the ISTE STEM Professional Learning Network (PLN).

Julianne has a bachelor's degree in elementary education from Iona College, a master's degree in early childhood education from the College of New Rochelle, a master's degree in educational administration from Fordham University, and is All But Dissertation (ABD) in computing for education professionals at Pace University.
Model Schools Instructional Specialist
Ulster County BOCES
Highland, NY
United States
Committees
ISTE Board of Directors
Audit Committee
Membership Linkage Committee
PLN Leaders