Ed Snow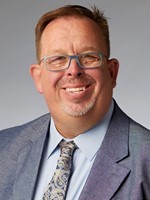 Ed Snow is a passionate "people first" edtech leader with over 15 years of K-12 edtech experience. He's currently the technology supervisor for the School District of Milton in Milton, Wisconsin. He's also a high school freshman football coach and serves on the board of directors for Wisconsin Educational Technology Leaders (WETL), a state chapter of the Consortium for School Networking (CoSN). Ed is proud to be serving his frist year as a member of the ISTE board of directors

Ed holds technology degrees in customer service, networking, hardware and software, and has a bachelor's degree in information technology.

A longtime ISTE member and volunteer, Ed was pivotal in bringing one of the first district-wide Apple 1:1 programs to Wisconsin. He's passionate about supporting student voice and partnering with students in their education, values proven out by his efforts to create a student-run help desk for his district and by the student presentation teams he's brought to the ISTE Conference & Expo.

Ed spent the first 12 years of his professional career as a wholesale florist. Due to dramatic changes in the floral industry, he decided to pursue a career in the technology field. Shortly after completing his first degree and while looking for a career change, fate landed him in the office former ISTE board member Annette Smith. Annette introduced Ed to the organization he says changed his professional life forever: ISTE.

Ed is a founding member of LETSGO-WI, a grass-roots organization of technology leaders dedicated to the art of school districts working together. He's hosted multiple edcamps and has presented at several state and international conferences, including the ISTE Conference & Expo, Skyward, Brainstorm, Skyward ICON, the CoSN Annual Conference and the Wisconsin Educational Media & Technology Association (WEMTA) Conference.
Educational Consultant
Wisconsin Department of Instruction
Committees
ISTE Board of Directors
Membership Linkage Committee
Governance Leadership Committee