Mila Thomas Fuller Ed.D. President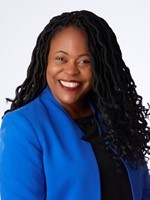 Mila Fuller, Ed.D., is an innovative edtech leader with expertise in instructional technology from strategy through to implementation. She has nearly two decades of experience in learning and teaching with technology through her work with associations, districts, schools and universities.

In her current role as interim director of online learning for the University of Illinois at Urbana-Champaign College of Education, Mila works to develop strategy, and promote and coordinate the delivery of online, distance and blended education offerings. Additionally, she collaborates with the college's online learning stakeholders and service providers.

Mila is also an adjunct professor in the University of Maryland at University College instructional technology master's degree program. Her higher education work also includes developing and teaching an education technology specialization course titled "Digital Age Technology and Instruction" for Johns Hopkins University's education doctoral degree program. Mila also has expertise in the strategic and operational aspects of leadership in edtech and affiliate governance.

As an association executive, Mila served as the deputy executive director of the National Council for Teachers in English, for eight years, where she assisted with the oversight and implementation of organizational goals and supervised senior-level teams. For five years, Mila also served as director of strategic initiatives for ISTE and was responsible for establishing and maintaining strategic alliances. She also assisted with identifying and exploring partnerships with institutions, agencies and other organizations to further the ISTE mission and to address technology in teacher quality. During her tenure at ISTE, Mila was a frequent national and international presenter on various topics related to digital age teaching and learning and digital equity.

She began her career in education as a fourth grade teacher in Baltimore City Public School System (BCPSS) and later served as an education associate for the district's Office of Technology, Library & Media Services. Mila went on to become the coordinator of technology leadership for the Learning Technologies Support Group at BCPSS.

Mila holds a doctoral degree in instructional technology from Towson University; a master's in leadership in teaching, with a specialty in administration and supervision, from Notre Dame University of Maryland; and a bachelor's degree in advertising from the University of Illinois at Urbana-Champaign. Her doctoral dissertation focused on the impact of digital and paper-based graphic organizers on students' persuasive writing process. She's also done research into the impact of school administrator support on the integration of technology into schools, relationships between community and student success in online learning, and addressing digital equity.

Mila is a current governing board member for the UNESCO Mahatma Gandhi Institute of Education for Peace and Sustainable Development (MGIEP), past president of the Champaign Urbana Schools Foundation Board, serves on the District Technology Planning Committee for Champaign Unit Four School District, is the technology task for chair for Delta Sigma Theta Sorority Champaign-Urbana Alumnae Chapter, and is a member of the EdNET Advisory Board. She is also a past president of ISTE affiliate Maryland Society of Educational Technology (MSET). In 2008, she received ISTE's Making IT Happen Award.

Long active in the association community and association leadership, Mila is a member of the American Society for Association Executives (ASAE), is a Certified Association Executive (CAE), and has been recognized as a Diversity Executive Leadership Program (DELP) scholar.
Contact
Mila Thomas Fuller
Assistant Director of Online Learning
University of Illinois at Urbana-Champaign
Champaign, IL
United States
Committees
ISTE Board of Directors
Board Nominations Committee
Governance Leadership Committee
I'm a speaker!
I speak on the following topics:

Supporting Student Writing through the use of Digital Graphic Organizers

Digital Equity

Governance: A Model for Competency-based Board Governance

Governance: Strategic Governance

Cultivating Diversity in your Affiliate Organization

If you're interested in having me speak at your event, please email me.