Board Co-President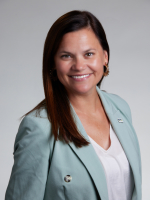 Hard to believe it, but in 2003 Nikole Blanchard was part of a pilot program at Louisiana State University (LSU) where student teachers used laptops in the field. Blanchard was blown away by the way students' needs could be met with technology. Pursuing this interest, Blanchard graduated from Louisiana State University with a Masters of Arts in Educational Technology.

Blanchard has always valued continuing her education. She is a National Board Certified Teacher, Apple Distinguished Educator, Google Innovator, Apple Teacher, Swift Playground Teacher, Google Certified Trainer, PBS Learning Media Innovator and Microsoft Innovating Educator.

Blanchard is extremely passionate about networking and learning from other educators! She is the co-founder of the Private School Colloquium. She is also a board member of the International Society of Technology in Education (ISTE), Baton Rouge's Edcamp and Louisiana IT Symposium. Blanchard has served as the treasurer of ISTE board of directors, as well as a mentor. She was recently elected by the ISTE board as President-elect.

Blanchard is the Director of Innovation and Technology at The Dunham School in Baton Rouge, Louisiana, which has been recognized as Louisiana's only PK-12 Apple Distinguished School. Through an exciting program, Blanchard led 97 teachers to 100% Apple Teacher. A career highlight for Blanchard was sharing the stage with Apple's CEO, Tim Cook in 2018. She told her technology story making history - the first time non-Apple employees spoke during an Apple Keynote.
Most recently, Blanchard was invited to teach an undergraduate virtual course at Louisiana State University. She has enjoyed preparing preservice teachers for the use of technology in the classroom.

Blanchard is a digital innovator and desires to impact the world. She is passionate about training teachers on technology and working with educators on one-to-one best practices. Whether it is sporting events or enjoying a family meal, Blanchard enjoys spending her free time with family and friends.
Director of Innovation and Technology
The Dunham School
Baton Rouge, LA
United States
Committees
ISTE Board of Directors
Board Nominating Committee
Executive Compensation Committee
Financial Oversight Committee
Governance Leadership Committee
Membership Linkage Committee