As we emerge from the global pandemic, ISTE has taken the opportunity to reevaluate our role in the broader education community. Technology is no longer an optional add-on, but a key tool for all learning.
After careful consideration and a comprehensive due diligence process, the ISTE Board of Directors has voted to merge with ASCD, the standard bearer for instructional leadership at the school and district levels.
The ASCD bylaws require a 45-day consideration period followed by a member vote. An ASCD member vote is scheduled for November, and if the vote is successful, the merger process will begin in January 2023.
As a result, ISTE Board nominations will be placed on hold pending the outcome of the voting process. More information will be available later this fall.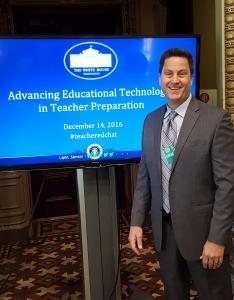 Thank you for lending your voice to the future of edtech!
Rand Hansen Ed.D., ISTE Board President
"The annual ISTE Board of Directors election is an unique opportunity for ISTE members to help design the future of edtech and of education for all learners. Take time to get to know the candidates, their ideas and be sure to cast your vote. The future is in your hands."