ADVOCACY NEWS
APRIL 2018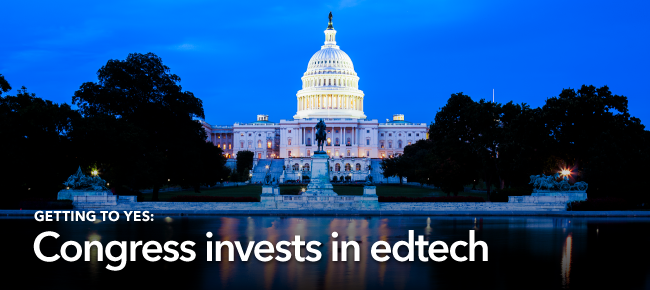 You did it!
Congress makes massive investment just six days after Edtech Advocacy and Policy Summit

ISTE members advocated for ESSA, E-Rate, net neutrality
Advocacy works! Over the past year, you've sent 6,839 letters to Congress through the ISTE website and have actively participated in various direct outreach efforts urging policymakers to take action for edtech. Your engagement has made a difference. Thank you!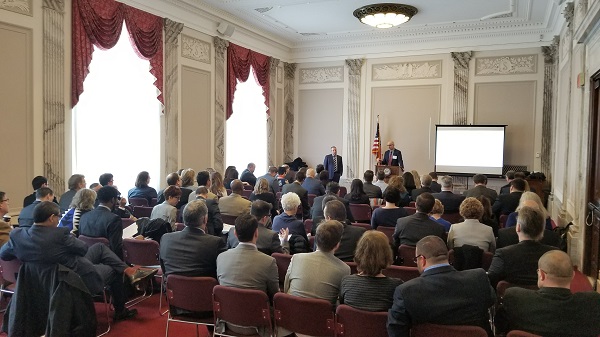 Morning session of the Edtech Advocacy and Policy Summit at the Russell Senate Office Building.

Your efforts were instrumental in helping secure a $1.1 billion appropriation for Title IV-A of the Every Student Succeeds Act (ESSA) that includes the only dedicated funding for edtech in the federal budget, a nearly three-fold increase from 2017. This came on the heels of our two-day edtech advocacy summit in Washington, D.C., co-hosted by ISTE, CoSN and SETDA, that attracted over 80 educators from 29 states and included representatives from 13 ISTE state affiliates.
Participants met directly with the staff of nearly 150 members of the House and Senate, and advocated for fully funding two key ESSA programs (Titles II-A and IV-A), continuing the E-Rate program and restoring net neutrality protections. They also met with key staff from the Department of Education and the Federal Communications Commission, including Commissioner Jessica Rosenworcel and staff from the offices of Chairman Ajit Pai and Commissioner Michael O'Rielly.

Meeting with Commissioner Jessica Rosenworcel at the Federal Communications Commission during the Edtech Advocacy and Policy Summit.

Just six days after ISTE members advocated for supporting programs that advance edtech, Congress passed a monumental fiscal year '18 funding bill that increased funding by $700 million for the Title IV-A flexible block grant that supports edtech and tech professional development, and maintained funding for the $2 billion Title II professional development block grant that President Donald Trump and the House had slated for elimination. These successes show that advocacy can have a powerful impact on Congress! Given the excitement, momentum and sense of empowerment in the wake of the summit, ISTE will continue its collective advocacy efforts in the short- and long-terms. Stay tuned to the ISTE Advocacy Network for other advocacy opportunities!

ISTE PROVIDES STATE ADVOCACY TRAINING

Affiliate leaders, ISTE members and organizations joined the ISTE advocacy team on March 14 for a three-hour interactive training on state advocacy at ISTE headquarters. The training included presentations, small-group discussions and several hands-on exercises. Participants learned about advocacy building blocks, best practices and comprehensive strategies to be successful advocates. Two practical exercises gave attendees a chance to develop their advocacy skills on pressing issues such as ISTE Standards adoption, securing funding for Title II and Title IV-A, and other policy initiatives.
Getting to 'yes!' We'll continue the momentum from the state advocacy session by offering more training opportunities throughout the year, including webinars for beginner, intermediate and advanced advocacy audiences.

ISTE STANDARDS ADOPTION UPDATES

A number of states, organizations and school districts have adopted, adapted or endorsed the newest generation of ISTE Standards in the past eight months, including Connecticut, Michigan, Texas, Vermont, Wisconsin, the Department of Defense Educational Activity (DoDEA) and the Los Angeles Unified School District (LAUSD). New Jersey and Washington are also on the path to adopt ISTE Standards this year. Momentum to adopt the standards is strong in many additional states, and we'll have more news to share regarding ISTE Standards adoptions soon. We encourage ISTE affiliates, education professionals and other organizations to think about how the ISTE Standards can be a powerful catalyst for bringing about the edtech policy changes you'd like to see in your state. Areas might include edtech for preservice teachers, edtech for professional development at the state level and digital citizenship. We're working hard with affiliates, like-minded organizations and leaders to get the ISTE Standards adopted in your state.

ISTE ADVOCACY TOOLKIT

We're creating new advocacy toolkit materials to strengthen your advocacy efforts. New documents include "Optimizing Social Media Use for Advocacy" and "A User's Guide to Your State Education Leadership." We're also refreshing the existing document titled "10 Steps to Develop Your Public Policy and Advocacy Plan."
Look for the refreshed and new materials in May!