ADVOCACY NEWS
OCTOBER 2017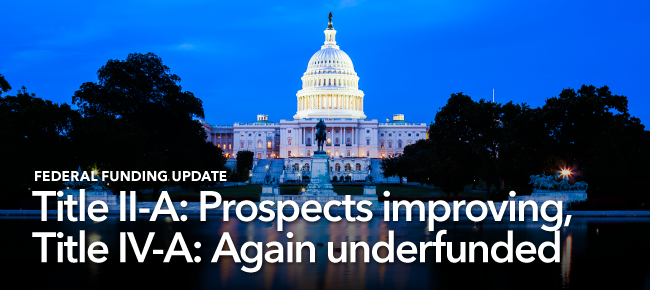 After Congress returned from its summer recess, President Donald Trump quickly reached an agreement with House and Senate Democratic leaders to keep the government operating until December 8, raise the nation's debt ceiling to avoid a government default on its obligations, and provide emergency aid to states affected by Hurricane Harvey. This deal bought Congress another three months to work on fiscal year 2018 (FY18) spending bills, including the bill that funds K-12 education programs, and to negotiate on a deal that may raise the low overall spending caps in place for FY18.

In September, both the House and Senate inched forward on their versions of the FY18 Labor, Health and Human Services, Education and Related Agencies spending bill that contains two programs critical to ISTE members: Title II-A, which provides professional development for technology and funds for attendance at ISTE's conference; and Title IV-A, a formula program that supports safe and healthy schools, well-rounded programs and the effective use of technology. The House passed its version in mid-September. The Senate's version recently passed the Appropriations Committee with action from the full Senate pending.

President Trump's proposed budget called for the elimination of both programs, but Title II-A remains in more jeopardy than Title IV-A. Authorized at $2.3 billion in the Every Student Succeeds Act (ESSA), Title II-A sustained a $249 million cut last year. This year, the House agreed with the president's stance on the program and approved a FY18 funding bill that allocated no funds.

The Senate reached a different conclusion on funding after it felt the brunt of strong direct and grass-roots advocacy effortsthat included advocacy days during which thousands of constituents reached out to Congress through phone calls, tweets and letters.

ISTE CEO Richard Culatta issued a statement that cautioned Congress not to completely defund an entire section of ESSA in its first year of implementation – particularly a program in the law focused on training educatorson innovative practices. This effort paid off when the Senate Appropriations Committee approved $2.055 billion in funding for the program – the same amount it received last year.

While the Senate's action is not final (the full Senate must still act and a final figure must be negotiated with the House and the president), Title II-A stands a far greater chance of survival with the Senate championing the program as valuable and worthy of funding.

While not in danger of elimination, Title IV-A faces a second year of underfunding. ESSA authorized Title IV-A at $1.6 billion in FY18. However, the program is coming off a first year of operation where it only received 25 percent of that amount ($400 million) and where, due to that low figure, Congress was forced to change the program temporarily to allow states to disburse funding via competitions rather than only by formula. Nine states are reportedly pursuing some form of competition for FY17. This year, the House has agreed to bump up Title IV-A's funding level to $500 million, while the House Appropriations Committee has approved $450 million.

Both represent increases, but neither is high enough to allow the program's block grant to function as ESSA intended, leaving many districts with the prospect of woefully low allocations and hindering their abilities to create meaningful programs with those dollars. ISTE – as a leader of the Title IV-A Coalition made up of 60 national organizations advocating for full funding of the program – continues to push for higher funding levels for Title IV-A.

Most recently, ISTE Chief Learning Officer Joseph South was a panelist during a Title IV-A briefing on Capitol Hill about the need to adequately invest in the block grant and the impact underfunding the grant has on schools. South strongly advocated for investments in the program to ensure districts receive enough funding to provide teachers with support for using edtech in transformative ways to empower learners and foster digital creators.

Congresswoman Suzanne Bonamici (D-OR), a tireless champion for Title IV-A, called for full funding of the program, saying the formula funding under Title IV-A was an important part of ESSA and would ensure all districts receive their fair share of support.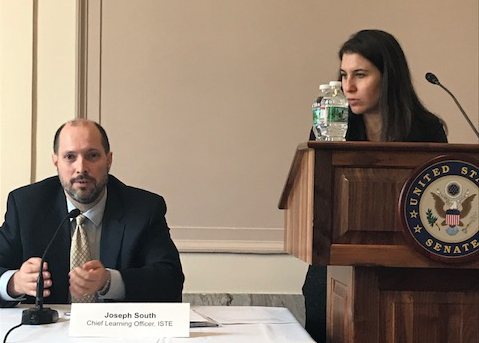 Over the next three months as Congress decides on overall spending caps and final figures for education spending, the voices of ISTE members can make a big difference. Please continue to let your members of Congress know how critical these programs are to the profession and the success of students.

ESSA state plans due, deadline extended for hurricane states

Last spring, over a dozen states turned in their ESSA state plans early and received letters of approval from the federal Department of Education. This includes Arizona, Connecticut, Delaware, the District of Columbia, Illinois, Louisiana, Maine, Massachusetts, Nevada, New Jersey, New Mexico, North Dakota, Oregon, Tennessee and Vermont. Michigan is still waiting for approval, while Colorado plans to resubmit a revised plan in October.

Just shy of the September 18 deadline, 30 more states submitted their plans for approval, including California and New York. Due to the recent hurricanes, the department gave storm-affected states (Texas, Florida, Alabama and South Carolina) later deadlines for submission.

The approval process hasn't been smooth sailing thus far as the department has come under fire from both sides of the aisle in Congress for different reasons. Last spring, Senate Health, Education, Labor & Pensions (HELP) Chairman Lamar Alexander blasted Education Secretary Betsy DeVos for overstepping the authority granted within the law by providing overly extensive feedback to Michigan about how to improve its plan.

Since then, the department has reduced its feedback to states, instead offering only to "ensure that each plan is meeting the letter of the law" and encouraging states "not to err on the side of caution, but to really push and go up to the line, test how far it takes to go over it." Unfortunately, this motto isn't sitting well with the ranking members of the House and Senate Education Committees, Senator Patty Murray (D-WA) and Rep. Bobby Scott (D-VA), who have expressed concerns that there hasn't been enough scrutiny of state plans.

While many states incorporated a lot of what they were already doing under the Obama-era waivers into their plans, there are some new options that ESSA affords states when it comes to improving education. Under ESSA, states can look beyond test scores when rating schools and choose to use other educational indicators like chronic absenteeism or college and career readiness as weighted factors.

Additionally, state plans must address teacher quality, attracting and retaining high-quality teachers and supporting novice educators in their first years of the profession – all of which are supported by Title I and II-A funds.

State plans must also include how the state will use new Title IV-A dollars to support safe and healthy schools, well-rounded programs and the effective use of technology. Under the old law, many of these programs had separate funding streams, rather than being lumped into a formula block grant. This means districts that receive low funding allocations may have to make some hard choices about whether to hire a school counselor or implement their 1:1 program.

It's critical to note that while ESSA plans offer a blueprint for how the state will use federal funds to improve education with the flexibility and innovation allowed under the law, the reality remains that states will be seriously constrained in their attempts if federal funding continues to be cut. As many members of Congress said in this year's ESSA budget hearings, "States can't do more with less."