October 3, 2017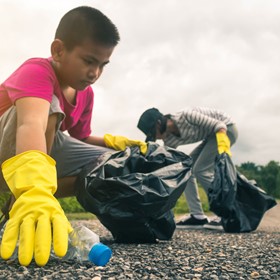 Idealistic teachers sometimes tell their students they have the power to change the world. If you believe that, maybe it's time to let your students take action.
Authentic social justice or community service projects have the potential to engage kids in the subject matter teachers need them to learn. These projects also empower kids to participate in their society and our democracy.
"This is some of the best work we can do as educators," says Suzie Boss, author of Reinventing Project-Based Learning with Jane Krauss and Implementing Project-Based Learning. "These sorts of projects help students figure out what they're passionate about and what they're capable of."
Boss recognizes that, for many teachers, connecting to experts and audiences can be a challenge. Boss recommends crowdsourcing your own school community by telling colleagues what you're attempting to see if they know anyone who can help or give feedback on student ideas.
Community partners are often eager for a practical, useful way to connect with schools, says Boss. If you ask for a short amount of time to allow kids to see the organization in action or a demonstration of how to design experiments, people are generally willing to help. Don't forget that tools such as Skype or Google Hangouts are there to overcome logistical challenges.
And you don't have to start from scratch. Boss recommends joining an existing project or adapting one to your students' needs.
Here are some examples of existing projects or organizations that students can tap into:
Constitutional Rights Foundation is a nonprofit, nonpartisan, community-based organization dedicated to educating young people about the importance of civic participation in a democratic society. The website has ideas of project-based civics lessons on immigration and the Bill of Rights as well as many other aspects of the U.S. democracy.
Centre For Global Education provides global learning opportunities, enhanced through technology. This year, the organization hopes to engage 100,000 kids in a project called #decarbonize by connecting kids through social media.
Earth Care Education includes science and math resources that encourage students to be environmental stewards. The intention is to create an online community to increase awareness of climate change and inspiration for repairing the planet.
Earth Care Geek is a student-created website that explores different key environmental issues. Each individual site has Learn, Act and Geek Out sections for different issues.
EAST Initiative connects students to sophisticated hardware and software tools and challenges them to apply the technology to identify and solve problems in their communities. EAST also offers technology training and professional development for teachers.

Generation On provides programs and resources that support the development of capable kids and teens through service, empowering them to become change-makers in their communities and the world. Find ideas, opportunities and grants for community service projects.
Metric Geometry and Gerrymandering Group is a Tufts University-based team of mathematicians studying the applications of geometry and computing as they relate to U.S. redistricting. Regional workshops are available for teachers and high school math students in Wisconsin, North Carolina, Texas and California.
The Monuments Project pairs students with monuments looking for the untold stories of World War I soldiers. Students research and share the story of a service member.
Mikva Challenge engages youth in civics through projects, such as Elections in Action, which allows students to participate in phone-banking, door-knocking, registering voters and blogging. Students learn to critically analyze issues, build their communications skills,and learn the nuts and bolts of campaigning; and Project Soapbox, a public speaking competition facilitated by Mikva Challenge that calls on young people to speak out on issues that affect them and their communities.
National Service Learning Clearinghouse is a free online K-12 resource that matches grade levels, subjects and interests to thousands of projects.
National Youth Leadership Council provides service-learning content to school districts and classrooms. Specific programs provide student leadership training, let students work on safe-driving initiatives and education equity, and provides resources for teachers and districts.
Seed Lending Library provides students with instructions for developing a seed saving and lending library. Excellent for biology teachers.
Syrian Refugee Crisis is a project by Teacher Adam B. Carter and his middle school students in Alexandria, Egypt, who arranged a toy drive for refugee children as well as a public awareness campaign after studying the Syrian refugee crisis from many different perspectives.
2 steps a month is a program designed by Rebecca Newburn for use in her middle school earth science class as part of their study on earthquakes and severe weather. The site includes teacher and community organizer, tips, videos and strategies to implement the program on emergency preparedness.
Read more about service learning opportunities in the October issue of Empowered Learner, ISTE's quarterly member magazine.