November 14, 2017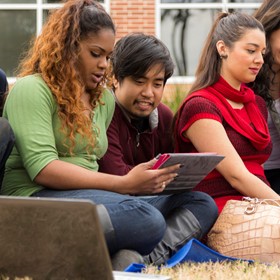 Each year, educators, students, parents, industry members and others gather for the National Digital Citizenship Summit. The goal of this event is to expand the conversation and inspire collaborative change around issues related to kids and technology, particularly digital citizenship.
As the focus of digital citizenship continues to evolve, here are five trends that came out of the 2017 summit.
1. Include everyone in digital citizenship.
The theme of the DigCit Summit was ExpAND — with an emphasis on "and." That's because it's no longer appropriate to keep this conversation between parents and children or sequester it within our schools.
In the words of Michelle Linford, director of EPIK: Deliberate Digital, which hosted the 2017 summit, it will take "Educators and parents and people from all sectors working together and having continuous conversations with each other … . We can't adapt to the world if we work alone in pods and pockets of expertise or focus."
Parents and students as well as representatives from business, education, health, government, academia and nonprofits must adopt a "we, not me" mindset.
One way to do that is through network weaving, a method developed by Network Weaver Consultants. It works like this: Participants representing different sectors gather in a group to discuss a topic, and each member jots down names of people who should be part of the discussion. As more names are added, lines are drawn on a map where they connect in various ways.
For example, a researcher could be connected to an educator whose students might complete surveys. Someone working for a nonprofit might be connected to someone in industry with a desire to fund the nonprofit.
2. Focus on the positive aspect of the digital world.
The ISTE Standards for Students aspire to empower digital learners by focusing on communicating with character and empathy. They focus on the possibilities and opportunities afforded by digital technologies in addition to setting expectations for protecting intellectual  property and privacy.
At the summit, a Youth Extravaganza program focused on stories and examples about how individuals can use tech for good. One youth group, Brave Girls Leadership, discussed how kids can intervene when they see negativity or bullying.

#UseTech4Good is a curated collection of positive examples of youth using technology in a positive way. Visit the site to find examples to share and consider submitting one of your own.
When parents and educators encourage kids to use their digital skills and tools to create and advocate for a better world, they are building future-ready skills and empowering learners.
3. Prepare students for the modern workplace.
No longer are workers isolated in single offices interacting only with coworkers from across the room. Increasingly business is global, and teams and customers are located around the world.
Alan Katzman, founder of Social Assurity, stressed the need to prepare students for the global work environment by teaching them good communication skills and bolstering traits like flexibility and cultural competency.
Communicating well using technology and being able to disseminate information quickly will be key job skills in the future, Katzman said.
How do we teach these skills? Giving students experience creating content, such as blog posts that have an authentic audience, is one way. Also, encourage students to reach out to experts on Twitter to seek advice or offer positive feedback.
4. Prevent dysfunction before it occurs.
In prevention science, the focus is on risk factors, potential issues that cause dysfunction and protective factors that help prevent problems from occurring.

It's about doing the hard work of finding the root of the problem instead of addressing a negative behavior in isolation. In other words, when one student cyber-bullies another, it's important to find out why that's happening rather than just punishing the behavior and moving on. Until we find out why students are participating in dysfunctional behavior, we can't arrive at a complete solution.

They key is to find solutions based in research. One place to look is Blueprints for Healthy Youth Development, which provides a registry of evidence-based positive youth development programs designed to promote the health and well-being of children and teens.
5. Amplify student voice.
In addition to the Youth Extravaganza, which focused solely on student voice, youth involved in the summit were involved in planning and running community events throughout the Salt Lake area.
Students from the American Academy for Innovation showcased drones, talked about their experiences with social media and shared projects they were passionate about.
Imagine what our schools and communities would look like if students were not just allowed to weigh in on problems that affect them, but were actually expected to contribute solutions. Everything from improving school lunches to developing more relevant and engaging curricula must include student voice.
Learn more about the 2019 National Digital Citizenship Summit.