December 19, 2018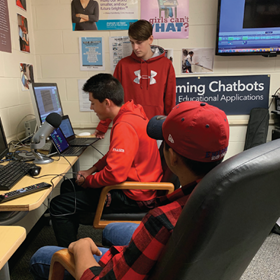 Kids teaching kids — with chatbots
The client: A second grade classroom learning about nutrition.
The developers: Eighth grade computer science students exploring how artificial intelligence works.
The product: A chatbot capable of dispensing information about local produce.
Today's students will live and work in a world with artificial intelligence, and computer science teacher Sharon Harrison wants them to be ready. Learning how AI works is a good start, but it doesn't necessarily prepare kids for the complex decisions they'll have to make as stewards of this powerful technology.
Instead, Harrison gave her students at University of Chicago Laboratory Schools a taste of what it's like to be a programmer working with artificial intelligence. Placing students in the role of software developers, she challenged them to create an AI system that meets the needs of a real-world client — in this case, a chatbot that can answer younger children's questions about nutrition.
"I think it's important at the moment for students to have an awareness of AI in general and the impact AI is going to have on our future – in the near future," she says. "For that particular class, I also wanted them to realize it's quite achievable to make a chatbot yourself."
While chatbot creation tools make it easy for students to build and deploy their own conversational software, Harrison had her class use raw programming language to code simple chatbots with a command-line interface so they could focus the underlying structure and mechanics instead of the software's visual components.
"I wanted them looking more at the mechanics of the chatbots, rather than having another level of distraction and not really understanding how it was functioning," she says.
Many adults interact with chatbots in their daily lives, often without realizing it. But when Harrison's students encounter this technology in the future, they'll not only be able to recognize it for what it is, but they'll understand how and why it's capable of processing questions and delivering appropriate responses.
Why does it work?
STUDENTS COLLABORATE LIKE REAL-WORLD DEVELOPERS. Breaking into small groups, the student developers worked together to determine what information to include and how their chatbots would respond to basic questions. With a flowchart as their road map, some groups divided the work into sections, with individuals coding in parallel and then merging the parts into a cohesive whole.
THEY DEVELOP A USER-CENTRIC MINDSET. Having an authentic client added an extra layer of complexity to the project as students learned how to design for a specific audience. "They had to consider their menu choices and how to prompt and get information from second graders who might make spelling mistakes or talking mistakes. We looked up interface design, language and how to use information so that the second graders could understand it," Harrison says.
THEY OVERCOME REALISTIC DESIGN CHALLENGES. Like any software development project, the assignment had its hiccups. The development team met with their clients only once for feedback, and the second graders, whose field trip to the local farmers market got rained out, didn't come prepared with as much information as they expected. Just like professional programmers, the eighth graders had to do the best job they could with the resources they had. Some of the chatbots were simple, others more complex, but all were functional.
Despite the hiccups, Harrison says, the positive feedback from students was overwhelming.
"They really enjoyed it," she says. "I most definitely would do it again."
Telling immigrant stories in virtual reality
Before migrating to America, Ewurabena Bondzie remembers climbing coconut trees in Ghana, striking cacao pods with small rocks, and throwing stones at mango trees to knock down fruit.
Years later and thousands of miles away, a group of sixth graders in St. Louis, Missouri, listened to her recollections as they worked to reconstruct her childhood world in a virtual reality museum.
At Hancock Place Middle School, where 100 percent of students receive free and reduced lunch, few kids ever venture outside their community, says social studies teacher Matt Bright. Most will grow up, work and raise their families in the same place they were born. Yet many are also second-generation immigrants whose families fled the Bosnian war.
"A lot these kids didn't know, 'Why am I here? How did I get here?' " Bright says. "They're not aware of the world outside their zip code."
To help broaden their worldview, Bright partnered with an English teacher at his school to create the Gateway Memories Project, a cross-curricular community engagement project designed to encourage students to explore their own immigration stories — or those of others — through virtual reality.
"It was just kind of a way to show them what else is out there in the world, and even in their own neighborhood," Bright says.
Inspired by Fontbonne University's Bosnia Memory Project, a digital museum dedicated to preserving the history of genocide survivors, Bright recorded interviews with several first-generation immigrants about their childhood memories, native cultures and first experiences of America. Students then used the footage to write concise biographies and design virtual museum exhibits in CoSpaces Edu, a virtual reality platform for classrooms.
Why does it work? 
STUDENTS DIRECT THEIR OWN LEARNING. As the sixth graders worked on their VR tours, Bright took a hands-off approach, letting their excitement for the project guide their learning. Students determined which skills they needed to develop, such as coding or animation, to bring their vision to life. Bright let them fail when necessary, stepping in only to help them figure out what went wrong. His advice to other teachers: "Don't be afraid. Just take a chance, let it go where it goes, and trust that your kids will do the right thing."
THEY PUSH THROUGH THEIR STRUGGLES. Because students were so absorbed in the project, they "forgot" to complain about tasks such as writing, which is typically difficult for the sixth graders, most of whom read below their grade level. "The kids were writing more than I've seen them write all year," Bright says. "They were pumped up. The project was theirs, and that passion led to enthusiasm, which led to higher-quality work."
THEY BECOME WORLD CREATORS. It's powerful when students express their learning by creating something — but virtual reality takes it to the next level, Bright says. "It's getting them immersed in a world, whether fiction or nonfiction, and getting them to bring something to life. They love to create their own world and show each other what they're doing."
In the process, he adds, they also learned important lessons about "seeing people as people. That we all have a story, and everybody's story is as important as everyone else's."
Nicole Krueger is a freelance writer and journalist with a passion for finding out what makes learners tick.