July 29, 2016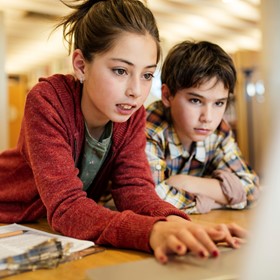 Moving from print to digital content opens the door to extensive free and paid resources. In fact, there are enough rigorous and robust resources available online to replace traditional textbooks entirely.

But determining what content is high quality and aligned with state-adopted standards is no easy task. And the copious amounts of materials out there make the task even harder.

In general, digital content should engage students and be easy to navigate. But there are many more factors to consider before selecting the best resources.  

"There are a lot of options out there for free or fee, and there is the good, the bad and the indifferent," says Kecia Ray, executive director of the Center for Digital Education and chair of the ISTE Board. "It behooves us to look for the good and the great, which requires taking the time to learn effective practices and putting them in place to be sure your kids have access to the best of the best."

Ray warns against forgoing planning and jumping directly to the implementation phase. She says the path to digital transformation must be a team effort that includes the IT department, curriculum leaders, teachers and students.

"When it comes to content decisions, they should never be made in isolation, and they should never exclude student and teacher voice," Ray says.

Here are some qualities to look for when evaluating free or fee-based digital content:
Graphics. The content should include images and graphics that are clear, with crisp colors and edges. Select images and text that are complementary and not cluttered.   

Learning paths. Students should be able to embark on individual pathways of learning based on their level of mastery on embedded formative assessments.

Interactive elements. Students should be able to easily interact with the content by clicking on it, scrolling through it and mousing over it.

Assessment elements. The digital content should include assessments that feature multiple-choice and fill-in-the-blank queries, as well as those that measure higher-order thinking. Opportunities to reflect on learning and interactive skill assessments should be incorporated as well.

User interface. The content should be highly visible with intuitive navigation for an optimal user interface.

Adaptive engines. Learning management tools should use data collected through student interaction with the software and assessments to create a personalized learning path that adapts to the student's needs.

Interoperability. Data should flow between applications seamlessly. Adopting standards for interoperability, such as those from the Ed-Fi Alliance or the IMS Global Learning Consortium, will establish protocols to maximize integration and increase data quality.

Cognitive load. Be aware of the types of activities and assessments in each learning path. Too much stimulation and too many activities can become overwhelming for the learner.

Data collection. Capture data via assessments or other user interface features so you have a 360-degree view of the learner's capabilities.

Self-paced. Students should be able to work through the material at their own pace, moving on only after they master content knowledge and skills.

Universal Design for Learning. Use the UDL framework to accommodate individual learning styles.
To ensure you're on the proper path to transitioning to digital curriculum, download the entire "Guide to Choosing Digital Content and Curriculum" from the Center for Digital Education.
Read the EdTekHub daily to discover how you can implement ed tech in your classroom or school.