May 15, 2018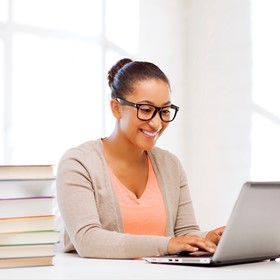 Few professional learning experiences surpass the engagement and excitement of exploring edtech with your peers. Traveling to a new city, finally meeting up with your virtual peeps in person and immersing yourself in the collaborative energy of ISTE 2018 combine to create a powerful learning environment where you can't help but soak up new knowledge about the latest tips, tools and ideas.

But what if you're not able to make it to Chicago, June 24-27? No worries. You can still be a part of the learning.

Here are four free ways to participate in the conference without traveling:
Follow #ISTE18 and #notatISTE on Twitter and Instagram. You can learn a lot from the conference just by following the #ISTE18 hashtag and the @iste handle, whether you're onsite or sitting in your living room. Throughout the conference, our members post tons of resources, recaps and ideas on social media. You can even join live backchannel chats for select sessions and events.

Follow presenters on social media. Many ISTE 2018 presenters are active on social media and do a great job of sharing their message, their thinking and their overall conference experience. Follow #PresentersOfISTE to see what they're saying and for access to the resources they share.

Download the ISTE 2018 app. For a comprehensive look at just about everything that's happening at conference, download the official ISTE 2018 mobile app from the App Store or Google Play after June 1. You'll be able to browse conference news, see what's trending on social media and read the program guide to get a sense of the vast learning opportunities available, which might inspire you to attend ISTE 2019 in Philadelphia.  

Stay tuned to the ISTE Blog.
Even onsite attendees can't keep up with everything that's going on in the convention center. Whether you're in Chicago or following along from home, you can read up on ideas you can use from the most popular sessions and events while experiencing the onsite excitement vicariously through our onsite blogging, video clips and photos. Continue to check back after conference as we post ISTE 2018 videos and highlights.