December 29, 2018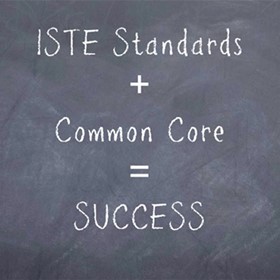 The Common Core is more than just the latest set of standards to follow. It represents a major shift in the way we teach and the way students learn.
It's no longer enough to work from a pre-determined set of knowledge and skills all students are expected to acquire. To truly meet the Common Core, we have to teach students to dig deeper, think bigger and apply what they learn to real-world problems.
"I think it's really about the way we're approaching our job as teachers," said Paula Don, director of educational technology for the School District of Philadelphia. "Rather than just pouring the facts in and making sure kids know how to multiply and divide, we can be facilitators in helping them apply and learn those skills in a real-world context so it has relevance."
Fortunately for educators who are working with the ISTE Standards for learning and teaching in the digital age, the Common Core State Standards emphasize many of the same skills we're already teaching with technology, from problem solving and critical thinking to creativity and collaboration. In her webinar on "Connecting the ISTE Standards with the Common Core," Don demonstrates how educators can use the ISTE Standards as a blueprint for developing the media literacy and analytical skills required to achieve the Common Core.
Media literacy represents an important area where the two standards overlap. The ability to locate, evaluate and use media in all of its forms will play a pivotal role in student success — as will the ability to apply traditional literacy skills to a digital environment.
She offered the following suggestions for taking media literacy to the digital realm:
Develop questions that provoke higher order thinking.
The word "analysis" appears frequently in the Common Core standards, across almost all subject areas. Memorizing and reciting — the way many of us learned about historical documents like the U.S. Constitution and the Gettysburg Address — have given way to the ability to analyze and compare.
So instead of having students memorize parts of the Constitution, for example, teachers might take them on a deep dive into the Bill of Rights, connecting history to what's happening today and analyzing the how document's relevance has shifted over the decades.
"Rather than having the kids learn the facts and give them back to you, it's about crafting open-ended questions and having the kids do more research and analysis, come up with their own hypothesis, and come up with evidence to justify their answer," Don said.
Explore how search engines work.
In a digitally powered world, search engines have become our information gatekeepers. As students increasingly conduct research via Google searches, they need to be able to evaluate and analyze the sources they find online.
An important component of teaching media literacy is helping students understand how search engines operate, Don said.
"When people understand how the algorithm works, they'll look a lot more critically at what they find online and not necessarily go to the top result that comes up in a search," she said. "Search engines are manipulating our access to information. What does that mean for us in a democratic society? Those thinking skills are so, so critical."
Are you ready to redesign your curriculum to meet the Common Core and ISTE Standards? Join the Project ReimaginED community to collaborate on updating education for the digital age.