December 29, 2017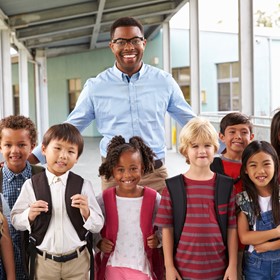 2017 has been quite a year. Virtual reality, global citizenship, a solar eclipse and the release of the ISTE Standards for Educators have been a few of the hot topics that have excited educators around the world.
Wondering how to integrate gaming or virtual reality into your classroom? Looking to step up your students' research skills? Or maybe some hands on, real-world projects are just what your class needs to turn those skills into actions. The ISTE Blog has you covered. Here are ISTE's most popular posts of the year.

1.  Top 10 sites to help students check their facts: Telling fact from fiction is hard for all of us these days, including students. Teaching students how to conduct credible, evidence-based research is no longer just the job of librarians. It is now the job of every teacher, no matter the subject. Oh, and these sites are useful for adults, too. 
2.  Find ideas for learning with technology in our back-to-school guide! This article is an ISTE greatest hits album, including personalized learning, gamification and digital citizenship. Find how-to articles on turning your classroom into a more student-driven environment, ideas for using badges to encourage learning or lessons for empowering students with global projects.
3.  24 resources for bringing AR and VR to the classroom: Virtual and augmented reality are increasingly accessible for use in the classroom. Here's a list of  resources that take AR and VR beyond fun and into the realm of enhanced learning.
4.  The New Digital Citizenship: Empower Proactive Digital Learners [Classroom poster]: "Digital citizens are learners who use their technology-driven powers conscientiously — and with empathy — to help make the world a better place." This printable poster by the ISTE team illustrates the three spheres of digital citizenship: digital agent, digital interactor and digital self. 
5.  7 resources for teaching the solar eclipse: The total solar eclipse that swept across the United States in August may have been a once in a lifetime event, but these science resources are still worth discovering with your students. NASA TV and space.com, for instance, continue to offer content that can inspire and educate in a variety of astronomical events. Besides, there's another solar eclipse headed our way in 2024.
6.  5 open educational resources to try: It's easy to be enthusiastic about the idea of free educational resources for the classroom. The problem is too much of a good thing. Elliot Soloway, Arthur F. Thurnau professor at the University of Michigan, sorts out some of the best, most-vetted open education resources available.  
7.  5 ways to gamify your classroom: With 155 million Americans playing video games regularly, smart teachers want to harness that enthusiasm and employ it for learning. In fact, gaming is an excellent way to teach kids a growth mindset, as well as collaboration and problem-solving. This article details ways to add gaming to your classroom. 
8.  How podcasts are making students better researchers: Google has become synonymous with research. "Some teachers report that for their students, 'doing research' has shifted from a relatively slow process of intellectual curiosity and discovery to a fast-paced, short-term exercise aimed at locating just enough information to complete an assignment," says Pew Research Center. Megan Shulman, catalog and reference librarian at Jackson State Community College in Tennessee, has created a series of podcasts designed to teach students to find credible, evidence-based research.
9.  4 maker activities to keep students tinkering: Makerspaces continue to pop up everywhere from local libraries to after school clubs to classrooms. Creative, open exploration is great, but students can also benefit from guided activities that help them learn how to use tools for independent creation. Here are some ideas for structuring maker activities for the highest learning benefit.
10.  Preparing students for jobs that don't exist: The World Economic Forum predicts that 65 percent of children entering grade school today will end up working in jobs that don't even exist yet. Preparing kids for this unknown workforce means creating higher order thinkers who are able to embrace ambiguity and learn from failure.
11.  14 projects that teach students to be good digital citizens: If you tell your students they can change the world, then it's time to let them take action. Here are some ideas for plugging into existing social justice projects. Ideas range from project-based lessons on the Bill of Rights to connecting students globally to tell the untold stories of World War II soldiers.
12.  Digital citizenship is the new citizenship: Digital citizenship involves more than teaching kids about cyberbullying and copyright law. The power of students to connect with peers across the world means they are growing up as global citizens. "The nature of civic engagement is changing, says researcher Amelia Johns. Today's students are 'the standard bearers of what the digital world is going to look like in the future, and, therefore, the shapers of what citizenship online will entail.'"
13.  Teach students to curate a project 'playlist' with primary-source documents: Those of us from a certain generation know there is a lot you could say with a mixed tape. The mixed tape for this generation involves carefully curating resources for a project using primary source documents. A valuable skill for students to cultivate, curating is more than just assembling random facts, it's an opportunity to tell a story.
Jennifer Snelling is a freelance writer based in Eugene, Oregon, and mom to two digital natives.