February 6, 2018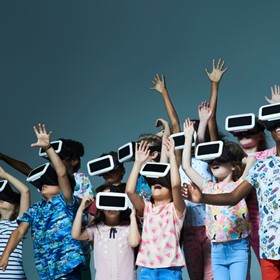 Affordable tools like Google Cardboard are Aurasma are making virtual and augmented reality (VR and AR)  the hottest thing in edtech.
If you haven't yet dabbled in AR or VR and don't get the appeal, imagine studying underwater ecosystems and taking the whole class scuba diving with just a smartphone and a $6 headset. The benefits include increased engagement and shared experience among students. Teachers can take advantage of many of the VR apps using the individual laptops, iPads or electronic whiteboards already in the classroom. While VR is changing quickly, the resources below are a good starting point.
360cities: Where do your students want to go? Just type in Rome, Tokyo, London and tour anyplace in the world with a 360-degree view. Free.
4D Anatomy: Subscription-based app allows students to explore human anatomy.
Alchemy VR has partnered with Expeditions to produce experiences narrated by naturalist David Attenborough. Otherwise, schools can purchase their own kits for $4,000 for 10 kits.
AugThat: Features a large content-based augmented virtual reality library.

Aurasma: Free app lets teachers create their own AR auras for their classrooms.
CoSpaces Edu: Tools and resources that allow students to create in 3D, learn to code and connect with curriculum on a new level. 
Curioscope: This innovative platform has one person wear a T-shirt while the other uses a smartphone to launch the app and learn about the human body in a whole new way.
Discovery VR: Discovery has added a VR app that allows you to experience your favorite Discovery programs, such as Deadliest Catch or Mythbusters in VR.
EON Reality: Students and teachers can create a blended-learning environment that allows creators to combine 3D with PowerPoint, notes, sound effects and more.
Immersive VR Education: Free education platform allows teachers to create their own lesson plans and immersive experiences.
ISTE Librarian's Network Webinar: Elissa Malespina, author of Augmented Reality in Education: Bringing Interactivity to Libraries and Classrooms has created a webinar about using AR and VR in the classroom.
Google Cardboard: Inexpensive headset that sells for under $10 and works with smartphone VR apps.  
Google Expeditions AR  Pioneer Program: With Google Expeditions kits you'll have everything you need to take students on a virtual field trip anywhere, from an underwater coral reef to Machu Picchu. But the kits aren't cheap. They cost $4,000 for a set of 10.
Mattel View-Master Virtual Reality Viewer: At $17, this viewer costs a little more than the Cardboard, but it's made of plastic and might last a little longer.
Minecraft Education Edition: The popular game has an education version that allows students to create their own virtual world, such as Jamestown or Fort Clatsop.
Nearpod: This is a free-for-teachers VR-based curriculum.
Quiver: Bring coloring to life with augmented reality content in biology, geometry and the solar system. App is less than $10.
Schell Games: Engaging game experiences designed to positively impact a person's habits, attitudes or knowledge.
Thinglink: Subscription-based program allows teachers to create interactive images and videos.
Timelooper: Free app allows students to go back in time in London, from medieval times to World War II.
Unimersiv: This individualized and immersive learning platform releases content on a monthly basis.
Wild Eyes: If your students are excited about VR, maybe they will want to support this campaign to fund a virtual tour of the nation's National Parks.
Woofbert VR: Lets you explore art galleries all over the world.
YouTube 360: Explore the streets of Paris or the trails of the Grand Canyon with free videos shot with a 360-degree camera.
zSpace: Offers different STEM programs, including Euclid's shapes or human anatomy at various prices.
This is an updated version of an article that was published on January 4, 2017.
Jennifer Snelling is a freelance writer based in Eugene, Oregon, and mom to two digital natives.