December 28, 2018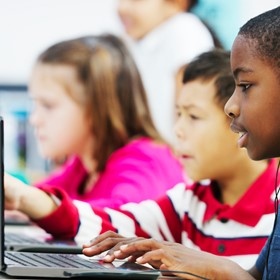 Helping younger children stay safe while searching for valuable information on the internet can be challenging. Fortunately, there are search engines designed exclusively for kids that can reduce the risks of online information gathering.
Valerie Morrison, Stephanie Novak and Tim Vanderwerff, authors of the book series Meeting Common Core Technology Standards, share kid-friendly search engines as well as search tips for beginners in this excerpt from Meeting Common Core Technology Standards, 3-5:
Search engines 
Teaching students which keywords to use and how to analyze search results will definitely help them find better sources and think more critically about any information they find on the internet. Following are some tips to help when teaching students to conduct a search.

Choose your search terms carefully. Be precise about what you are looking for, though you should use phrases and not full sentences.

Add more words to narrow a search. Use Boolean searches to narrow your topic with quotation marks. There's a big difference between the search term "gopher" and "habitats of gophers in North America."

Use synonyms. If students can't find what they're looking for, have them try keywords that mean the same thing or are related.

Search within a site. Typing the word site: (with the colon) after your keyword and before a URL will tell Google to search within a specific website.

Add a minus sign. Adding a minus sign immediately before any word, with no space in between, indicates that you don't want that word to appear in your search results. For example, "Saturn -cars" will give you information about the planet, not the automobile.

Kid-friendly search engines
Protecting students from unsafe content is the most important reason for using search engines made specifically for kids. Allowing your students to have the run of the web using a search engine for young students helps you, because it is difficult to monitor an entire class that is using unfiltered search engines.

Of course, there is no guarantee that results will be safe even when using a search engine tailored for children. Many districts have filters on their networks, but if yours does not, we suggest you explore the following.

Kids Click: A free web search site designed for kids by librarians with kid-friendly results. For grades 2-5.

Safe Search Kids: This is a custom search engine using Google's Safe Search features with additional filtering to block more potentially harmful material than if you simply use Google. It is fun, colorful and easy for kids to use.

Google Kid Search: This is another safe search engine powered by Google for Grades K-8. However, please be aware there are ads on this site.

Yahoo for Kids: Yahooligans is a safe search engine for young students (K-2) picked by editors at Yahoo.

Ask Kids: This is a free, filtered search engine for Grades K-6.

To get more ideas for addressing Common Core tech standards, order Meeting Common Core Technology Standards, 3-5 today or get the multigrade level set.