May 4, 2015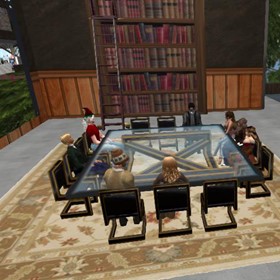 Maybe you've heard of Minecraft. Or World of Warcraft, or Second Life. Maybe you've even heard that there are a few brave educators who are using them in their classrooms, with — gasp! — students. These educators know that 3D virtual learning environments are far more than mere games and that their potential to engage students, personalize curricula and develop higher-order thinking skills is worth the fight against fears of time wasting, questionable online influences and doubts about educational value.
Could you be one of these educators? If you're innovative, creative and a rebel, you might be. If you can deal with being misunderstood and possibly even heckled in the faculty room, you are well on your way. And if you can wear being different as a badge of honor rather than a cloak of shame, all in the interest of giving your students a one-of-a-kind learning experience, you should definitely read on to find out how to tap into the magic of virtual worlds for education.
The case for virtual environments in education
So what is a virtual environment, really? Is it a game? Well, sometimes. But not always.
Games are fun, and most have rules. Virtual environments can contain games for diversion or amusement, but since the VEs that weren't created for those purposes don't have rules per se, they are not, in and of themselves, games. They are whole worlds.
Students can and do visit virtual environments to view and analyze, evaluate and create content. Hmmm. Aren't those actions the highest-order performances linked to Bloom's Taxonomy? Additionally, today's technology landscape incorporates the SAMR Model, the highest level of which is the redefinition of student performance — something that virtual environments are all about.
One of the best things about virtual environments is that they allow the user to build and create. Among the possibilities up for creation are virtual simulations, such as a virtual hospital for training health care workers or a virtual battlefield for military missions. Users can also create or reimagine works of art and virtually reproduce historic architecture, such as medieval castles, the Roman Colosseum or Colonial villages. Almost all virtual environments also have customizable avatars that allow users to extend their self-expression into the digital realm.
Most virtual environments also allow for amazing collaborative opportunities where groups of people can build together. Because socializing is key to the experience, they often include chat programs for communication, and some even have voice tools for heightened collaboration.
Best virtual worlds for learning
The first thing you must do is choose a world to start with and open an account. Once you have an account on your virtual platform of choice with a viewer — essentially a web browser for virtual environments — it's up to you to pursue learning. Don't worry, it's everywhere!
Here are a few virtual worlds with established educational communities and applications:
1. Second Life
This virtual environment is designed for ages 13 and up. It provides a sense of place at a distance as well as easily accessible tools for near-instant content creation and collaboration. Problem-based learning? Right here, colleagues. Small-group discussions, with breakouts if that's your thing? Got it. Student-created demonstration of understanding for a 3D work portfolio? Done. A global audience for your students' work? Got that too if you choose to open up your world to the world.
Although Second Life has lost some popularity in recent years, it has not lost its ability to engage students of all ages. Take, for example, SubQuan, a serious visual alternative to traditional math that uses the same visual notation to display quantities in any place value system. The 3D graphical representation, in other words, appears the same for any base system, which helps students wrap their brains around this mathematical concept. Second Life's user-generated content tools and simple but facile scripting language are exquisitely suited to innovation of this kind.
Watch the video below to see how educators Cooper McBeth and Rebecca Reiniger have used it with students as young as 5 to great success.
Another must-see is "The Drax Files: World Makers," a web series profiling some of the creative people behind the avatars running Second Life communities. Start with the episode focused on adults with disabilities at Nova Southeastern University that builds on pioneering work in that field by VirtualAbility, Inc.
Want to see if there's anything on Second Life that will work for your subject or unit? Just search the internet for your topic and add Second Life to the search terms. Chances are that you'll find something interesting. And while you're at it, take a look at some screenshots of cool people, places and things educators have created in this world.
If you are concerned about privacy or if you are working with young students, you may want to consider some of the other options below, such as OpenSim, that you can run on your own server. Second Life can be pricey. Investigate pricing options, including those for Private Regions, at the Second Life website.
And here are a few more resources for your researching pleasure:
2. Minecraft
This popular online world re-ignited enthusiasm in using virtual environments for learning, especially with a younger generation that will most likely demand a higher graphical building model and interaction as they move on or "level up " . And now that Microsoft is bringing its formidable marketing team to the table, Minecraft's immense success and improvement is now locked and loaded.
Minecraft has grabbed teachers' and parents' attention vicariously as they witness their children engaging, collaborating and problem solving. Think of it: This generation of Minecrafters is the first that will grow up with a native understanding of what it means to "be" an avatar. That, friends, is a game changer. Minecraft can be hosted on a school's server, and Minecraft Edu is a great way to get an education-based setup with support.
If you want to see how educators use Minecraft in the classroom, watch Rachel Jones talk about how she uses it for languages instruction or read how Douglas Kiang uses it to foster collaboration and team building.
Read all about other educational benefits of Minecraft in these additional resources:
3. OpenSim
Pioneering educators can create their own builds for students to work with on this open source virtual world platform. Again, students' own building and creating is the driving force. When teachers see the look of fascination on their students' faces, they can't help but feel rewarded.
OpenSim environments look and feel like Second Life because they share the same code, which was developed on an open source early version of the Second Life platform. SL is the gold standard for content and interface, but you can implement OpenSim on a much smaller budget.
Keep in mind that, although you can get the OpenSim software for free, like many open source applications, it works best on a server that can handle the memory requirements. While server space is a cost, a school-based OpenSim build allows for maximum control for schools so that you can limit student interaction within your school. Another option is Sim-on-a-Stick, a cheaper alternative that basically gives students their own virtual world on a memory stick or thumb drive.
Some OpenSim worlds to explore are Kitely, Active Worlds and Quest Atlantis Remixed. All of these worlds are highly dynamic and well suited for education. Kitely and Active Worlds incorporate building and creating, while Quest Atlantis Remixed is more scripted but offers some high-octane curricular content and easy management for educators. And it's free!
Check out these resources to learn more:
4. World of Warcraft and GuildWars2
Both of these are massively multiplayer online role-playing games (MMORPGs) that offer more than the term game would suggest. They allow students to learn about economies, study history, and collaborate in quests and adventures, all in the first person. This is immersive, experiential learning at its best, and the game format keeps students extremely engaged.
The WOW in School project, brainchild of Lucas Gillespie and Peggy Sheehy, presents a complete curriculum linking the study of what it means to be a Hero to the reading and discussion of Lord of the Rings.
Inevitable Betrayal is a WoW guild of educators who meet regularly to maintain a social bond of play and collegiality. Theirfocus is educational exploration in virtual worlds, MMORPG content, mobile games and the creation of alternate reality games.
Learn more about how to use WOW and GuildWars2 as educational tools with these resources:
5. Unity
Unity is a game engine: a program you can use to create avatar-based environments and intricate scripted objects. The U.S. military is using Unity in very large-scale ways to create simulations that pre-train soldiers for dealing with dangerous or problematic situations without putting them in actual danger, and the U.S. Department of Education is supporting Unity-based games as educational tools.
Take a look at these sites to learn more how to use Unity in an educational context:
On the horizon
What are some of the newest developments in virtual worlds? Glad you asked. Some really cool trends are on the horizon:
Since mobile technologies are in high demand, Minecraft has released an app for students that isn't a fully functioning computer-based program but still has a lot of functionality.
Microsoft is onto something tremendous with its HoloLens, built on its Kinect technology. This may be the fuel for a very real adoption surge, since it could potentially let a student lay out a Minecraft build on the living room table.
Occulus Rift has generated excitement because it allows the end user to explore virtual environments through a 3D viewer interface. Think of exploring a virtual Roman colosseum as if you are there! Amazing potential.
Google's Cardboard is also offering some possibilities for virtual world viewing using Android technology.
Second Life is still out there pushing the envelope. While it may always have its wild side, there are some new trends that show incredible potential. It is becoming a haven for artists and writers because it allows their audiences to be engaged, involved and following along, not just as viewers or readers, but as co-makers. Not only are the artists able to create amazing works of art in the virtual world, but viewers of these expressions can take pictures and essentially create their own works of art. Art begets art.
A new movement to offer clue-based mystery solving experiences in Second Life also holds promise for educators. Complex storytelling is essential for a virtual environment, and it can be delivered with a deadline to enhance its urgency. "Buried" by MadPea was one such site that racked up hundreds of logins over a three-week period this spring.
Want some help exploring virtual environments? Sign up for the ISTE Virtual Environments Network (free for ISTE members). Not a member? Learn more about joining. 
Andrew Wheelock is technology integrator for Erie1 Board of Cooperative Educational Services/Western New York Regional Information Center in New York, co-chair of the ISTE Virtual Environments Network, developer of the Islands of Enlightenment Projects -- OpenSim Virtual World Project and host of Coffee with a Geek.

Scott Merrick is v-lead teacher, v-learning support specialist and academy coach at Metropolitan Nashville Public Schools' Virtual School in Tennessee. He helped found, and is currently co-chair of, the ISTE Virtual Environments Network, and he is vice-president of the ISTE Online Learning Network.