March 14, 2016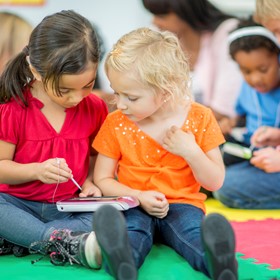 There are dozens of digital tools that are transforming reading in the digital age — and we're not just talking about e-readers and tablets. Innovation in literacy-focused ed tech goes far beyond the format — whether it's a physical book, a comic book, an ebook or audio — and focuses on enriching the reader's experience beyond the words on the page.
The internet provides a bevy of resources — many of them free and open source — that can augment and enrich reading for students, igniting a powerful love of storytelling and literature in even the most reluctant readers. With tools that spark creativity, encourage nationwide and global collaboration and inspire readers to engage in new and innovative ways with story, there is no shortage of strategies you can employ to ignite a passion for reading.
What better way to get kids engaged than by letting them share their thoughts and ideas with passionate readers from around the world? Goodreads offers a social experience where students can participate in lively online conversations, play literary games and take quizzes.
This discovery platform allows teachers and students to choose a topic and then suggests articles, poems, essays and books for a range of middle and high school reading levels. With immersive themes and thought-provoking discussion questions, students can focus their reading on topics that they are truly passionate about.

ePals
Another tool that enriches the social aspect of reading, ePals allows students worldwide to discuss literature in a rich online environment. Through collaborative online learning spaces, project sharing and language learning, this tool allows students to experience reading in a whole new way. Plus, there's nothing like the prospect of discussing a favorite book with a "pal" on the other side of the world to ignite student enthusiasm.
This innovative app resembles a virtual news center and gives students the ability to create interactive video. Have students create book talks or even start their own book talk channel on YouTube.
This creativity-sparking tool is perfect for kids who connect with story through the more visual medium of comics. An online tool that allows students to create their own comic strips, Bitstrips encourages students to write and interact with one another through storytelling.
Biblionasium is a social network for readers that is similar to Goodreads except that it is designed specifically for K-8 students. Kids can connect with friends, recommend books, discover new reads and build a virtual bookshelf.
Don't be afraid to incorporate technology and challenge the traditional "rules" of reading by creating an interactive, impactful reading experience for your students. Let them share their book reviews on Goodreads and join conversations with students from around the world on ePals. Let them create book talks on Touchcast or discover new reading material from other students' book talks on YouTube. Encourage them to blog and create comic strips. With digital age tools, the possibilities for making reading fun and motivating are endless.
Get more ideas about how to engage new and reluctant readers, check out Technology, Reading & Digital Literacy by Rob Furman.