October 23, 2015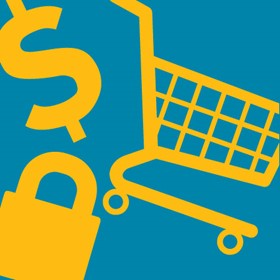 As teachers work with students to understand online access, etiquette, health and wellness, and rights and responsibilities, there's one aspect of digital citizenship they often overlook: digital commerce. And yet it has significant implications for students, both personally and financially. The electronic buying and selling of goods, after all — be it on Black Friday or Cyber Monday, via Craigslist, or just through regular visits to the App Store — is now ubiquitous for people of all ages.
Clearly, it's time we start teaching about digital commerce. But what should we say? Print out this infographic to give students a cheat sheet for safe online shopping and selling. Then read on to get a quick-and-dirty curriculum plan.
Click the image below to download Infographic file (PDF)
.
Mike Ribble, author of Digital Citizenship in Schools and director of information technology for Manhattan-Ogden Unified School District 383 in Manhattan, Kansas, says it's important for students to understand what digital commerce looks like today and what buying online means for all of us.
He says the ease with which things can be purchased online opens the door not only to safety and security issues, but to financial lessons as well. "We put locks on our phones, but when we hand it off to friend and family, things can happen," Ribble notes. Like when a child has access to a grandparent's phone and downloads an app without a second thought. After all, what's $1.99?
"The child isn't being malicious. Perhaps they just went ahead and followed the intuitive nature of today's digital commerce," Ribble explains.
Jenn Scheffer, mobile learning coach and instructional specialist for Burlington Public Schools in Massachusetts, confirms that the ease of online buying means we also need to be teaching kids about how to be savvy consumers. Scheffer, a former high school business and marketing teacher, says we shouldn't overlook smart online shopping when we teach about finance, especially since some students may be creating their own shopping sites to sell entrepreneurial products or services.
"Kids need to know that things like enrollment fees, delivery charges, special offers and rewards program will pop up and they can end up spending a lot more than they anticipated or buying things they didn't know they were buying," Scheffer says.
Ribble and Scheffer advocate for teaching students how to safely make online purchases. Here are several topics they say should be part of the discussion:
Website reliability. Show students how to check the URL bar and website address to see where a link is taking them. We often assume that links are taking us where we want to go, but that's not always the case. Does the URL bar say Target.com, for example, or something else? Checking the URL assures that users aren't being redirected to a secondary site that captures personal information.

Fraud and identity theft. These are often the biggest concerns in the discussion of digital commerce. Students need to know what to do if they think they've been defrauded or their identity has been stolen. Talk with students about how to report fraud and who they should tell: their email carrier, the primary website, website hosts like GoDaddy or On-Site, a social media company, their local consumer protection agency, or the state attorney general's office, depending on how the intrusion occurred.

Secure sites. Show students how to determine if a website is secure, especially if they are providing credit or debit card information. Look for URLs that include https. That "s" stands for "secure" and means the site has encryption to help protect financial information. A yellow lock icon in the lower right-hand corner assures the same protection.

Use of public computers. Kids often think nothing of logging in to a public computer and making a purchase at a library or school. Remind them that there's always potential for people to pull information off of public machines. It's not a bad idea to also talk about data skimming at ATM machines.

Money management skills. Take time to review basic money management. Students must understand that just because it's easy to click on something, that doesn't mean it's free. You will be responsible for paying the piper at some point.

Consumer skills. Students will also benefit from a lesson on how to be savvy consumers. Go over how to read product reviews, how to read and understand terms and conditions of purchases, and additional fees that can be added to purchases. Show them how to leave a review if a product or service they purchase is sub-par.

Leveraging social media. Many young people trust the reviews of online strangers more than friends. After all, it's easy to get caught up in Yelp reviews. Explain that they can also crowdsource information on products or services they are considering purchasing from folks they know and trust on social media platforms.
Looking for additional resources on digital commerce? Here are a few sites that might help:
For a closer look at all aspects of digital citizenship, check out Ribble's Digital Citizenship in Schools, recently released in its third edition.