August 21, 2015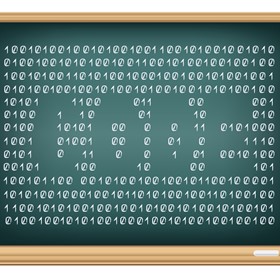 If you haven't heard yet, coding is a big deal, and for good reason. Computer science (CS) job opportunities pay well and are growing at twice the national average. And yet, most schools don't offer any programming classes, and CS courses don't even count toward graduation in about half of U.S. states.
Code.org is trying to change this disconnect. Launched in 2013, this nonprofit's vision is for every student in every school — including underrepresented groups such as women and students of color — to have the opportunity to learn computer science. The organization's Hour of Code program and videos featuring President Obama, Ruchi Sanghvi, Bill Gates, Mark Zuckerberg and Chris Bosh are quickly spreading the word that CS should be part of core curriculum, alongside other courses, like biology, chemistry or algebra.  
And it's working: At the time of publication, more than 6 million students had written 7,232,011,773 lines of code — and every day more are learning how.  
Want your students to join the movement? Here is a list of free Code.org tools, resources and sources of inspiration to help you get started:
Hour of Code. Commit to one hour of computer science this December during Computer Science Education Week and register your class for this popular event.

Code Studio. Use the four 20-hour online Computer Science Foundations courses as free, ready-made curriculum designed to give K-12 students a foundation in CS principles and programming, beginning with early readers and expanding through high school. The coursework encourages students to work in pairs, communicating and collaborating to solve puzzles and complete tasks. The curriculum integrates unplugged activities requiring no computers to develop computational thinking and hands-on, minds-on activities to learn vocabulary terms, such as "algorithm," in context. You can even try out an accelerated teaser version to preview what your students would learn.

CS in Algebra and CS in Science courses. These online courses for middle schoolers are formatted like video games — what's cooler than that? — built on a block-based version of Bootstrap. CS in Algebra features 20 lessons with videos and other support materials that explore both algebraic concepts, such as defining variables, and geometric concepts, such as the coordinate plane. CS in Science, the result of a partnership between Code.org and Project GUTS (Growing Up Thinking Scientifically), aims to integrate CS practices into the science classroom through modeling and simulation. You can even get free professional development to teach this curriculum.

Exploring Computer Science course. High school educators should check out this course meant to broaden participation in computer science. The course's video and curriculum banks continue to grow, and it is designed to match the College Board's newly proposed Advanced Placement course, AP Computer Science Principles. Check out the PD opportunities for teaching this course and stay tuned for Code.org's new Computer Science Principles course.

Face-to-face workshops. Don't feel comfortable diving into teaching CS without some training? K-5 educators and middle school teachers just starting out with CS can attend free, one-day professional development workshops led by one of Code.org's 150 trained facilitators. These are high-quality, engaging workshops designed to help teachers bring computer science to their own classrooms. You'll take home a printed curriculum guide, materials to teach the unplugged activities and fun Code.org swag! Search the site for workshops in your area or reach out to your local affiliate.    

Code.org forum. All educators can become a part of this professional learning community. Get ready to ask questions, share insights and be inspired to grow as a CS educator.

Social media. Follow Code.org on Twitter @TeachCode and tumblr to get tips, updates and opportunities to network with other passionate CS educators.

Community meetups. Register for one of Code.org's free monthly meetups for teachers. Check the schedule to find out when meetups for Exploring Computer Science, CS in Algebra, CS in Science and more happen.

Code.org's petition. Want to take the movement to policymakers? Learn about the state of computer science education in your area and sign the petition to advocate for the idea that every student in every school should have the opportunity to study computer science.

Inspire your students and colleagues. Share videos, tell the stories of Code.org's Student of the Week and Teacher of the Month winners, and hang free posters featuring quotes from celebrities, such as Melissa Meyer and Ashton Kutcher. Even better, nominate a Student of the Week or Teacher of the Month yourself.

Get more resources. The third-party resource page lists everything from ScratchEd to Project Lead The Way, along with a brief curriculum description, associated costs and available PD. 
Janice Mak is a Code.org affiliate and STEM educator from Phoenix, Arizona. You can follow her @jmakaz and read her Super Coding Power blog, where she shares stories of "making" things happen by coding, creating and innovating.