December 31, 2018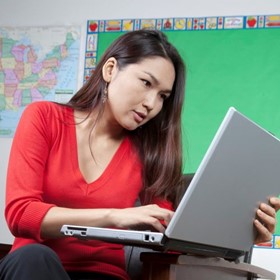 What do educators love to read about? Judging from the most popular posts that appeared on the ISTE Blog in 2018, they are looking for ideas and strategies for using technology in meaningful ways.
Digital citizenship continues to be a hot topic as does computer science. And, of course, teachers are always looking for ways to use technology to improve productivity for both educators and students.
Read on for a look back at some of the most popular ISTE Blog posts of the year:
The most compelling topics among educators who embrace technology for learning and teaching are not about the tech at all, but about the students. And that's a good thing.
In an era of fake news and increasingly bitter political polarization, it's time for teachers to move beyond online safety and teach students how to use technology to make their world and communities better. We asked educators to share how they would commit to digital citizenship using #digcitcommit.
Simply using technology in the classroom does not boost student achievement. Avoid these four common mistakes that impede technology integration and hamper student achievement and growth.
STEM learning experiences are the key to engaging students in science while teaching them critical skills like scientific reasoning, and the growing citizen science movement makes it easier than ever to get students involved in real-world scientific inquiry.
Our annual guide is always a big hit with educators because it's jam-packed with ideas to get the school year off to a good start. And the beauty is, you can use these ideas any time of year. ;s not a bad idea to embed cell phone management advice into every curricular subject.
You may be a tech-savvy educator who brings digital age lessons and projects to your classroom, but are you doing all you can to be a digital leader on campus? This post offers five things you can start doing today!
It takes will, know-how, technology tools, practical strategies and patience to teach computer science and it's best integrated across content areas by teaching design and inquiry practices in tandem with CS.
No matter the discipline, creating computational artifacts is one of the core computer science practices students should consistently experience to become better problem solvers. This post offers four steps to get them started.
K-pop band BTS and their loyal international fandom known as ARMY may seem a world away from your classroom or anything as serious as digital citizenship, but there are lessons to be learned from the way BTS fans behave and react that will be applicable to any fandom or community that your students — or you — may be a part of.
Every teacher wishes she had more time. Although it's impossible to add more hours, there are ways to use the time we have more efficiently. This post outlines six Google workflow tricks educators can use to efficiently manage their time.
Diana Fingal is director of editorial content for ISTE.