October 1, 2015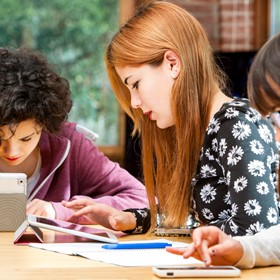 Homework is hard enough for most students, but for those who don't have internet access at home, it can be a huge hurdle.
On average, high school students are assigned 3½ hours of homework per night or more than 17 hours per week. Students who can't complete assignments or can't do their work as effectively as their peers because they live in rural areas or can't afford broadband are at an educational disadvantage that digital equity advocates are calling the "the homework gap."
In the U.S., lawmakers are working to close that gap, particularly for low-income families, but many schools are stepping up with creative solutions of their own.
Bridging the gap
Take tech to students. The Coachella Valley Unified School District in rural Southern California has experimented with taking technology to students. The district has equipped school buses with Wi-Fi and parked them overnight in trailer parks where low-income school children live.
Build it into the community. In the Kent School District in Washington state, education officials have placed kiosks that emit free Wi-Fi at community centers and schools near public housing. In all, the district has placed nine kiosks across the community and has coordinated with local businesses and organizations to establish a network of school-sponsored Wi-Fi hotspots.
Address the bigger issue. Some districts are also providing low-cost – or free – devices, but money isn't the only issue. Many people don't understand how the internet can benefit their lives or how to use it effectively. Digital literacy programs can help students, but more importantly, this education effort can target parents by letting them see what they're missing and how to assist their children.
For a deep dive on all aspects of digital equity, including practical, policy-driven and funding solutions to address the homework gap, read the full article in entrsekt.