April 20, 2018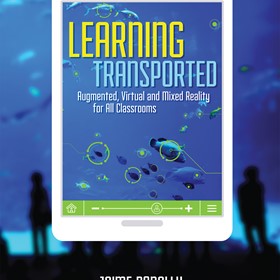 WASHINGTON, D.C., April 20, 2018 — Imagine, as a teacher, being able to help students "walk" through the solar system. Or virtually face a hurricane. Or experience what it's like to have a heart beating in their hands. These possibilities are happening now in classrooms through augmented and virtual reality and other immersive technologies.
In the first book of its kind for teachers, the International Society for Technology in Education (ISTE) explores how educators can use these advancements in the classroom every day in an affordable way. Learning Transported: Augmented, Virtual and Mixed Reality for All Classrooms by Jaime Donally features practical insights, lesson plans and classroom examples to help educators explore and implement the latest tools for the greatest student benefit.
"While it's easy to get excited about these experiences and their classroom potential, it's important to first understand the technology and its connection to learning and form a clear plan for how it is to be used and implemented," Donally says.
Donally, based in Longview, Texas, is a frequent presenter at ISTE education conferences and moderates a weekly Twitter chat on immersive technologies. She began her career as a classroom teacher and later moved into instructional technology. She now provides staff development and training on trending technology topics.
Richard Culatta, ISTE CEO, says, Learning Transported is the perfect guide for any teacher interested in bringing AR and VR experiences to the classroom. Jaime Donally answers all the questions, including when to use immersive technology, which devices to choose and how to engage students in the process. This is exactly the practical guide to immersive technology the education community has been waiting for."
The book includes full lesson plans and activities to help teachers design their own augmented reality experiences and an appendix of tools and apps. It's designed for educators who are new to AR/VR and those who have been testing and implementing it in their classrooms.
About ISTE
The International Society for Technology in Education (ISTE) is a nonprofit organization that works with the global education community to accelerate the use of technology to solve tough problems and inspire innovation. Our worldwide network believes in the potential technology holds to transform teaching and learning.
ISTE sets a bold vision for education transformation through the ISTE Standards, a framework for students, educators, administrators, coaches and computer science educators to rethink education and create innovative learning environments. ISTE hosts the annual ISTE Conference & Expo, one of the world's most influential edtech events. The organization's professional learning offerings include online courses, professional networks, year-round academies, peer-reviewed journals and other publications. ISTE is also the leading publisher of books focused on technology in education. For more information, visit iste.org. Subscribe to ISTE's YouTube channel and connect with ISTE on Twitter, Facebook and LinkedIn.