May 10, 2018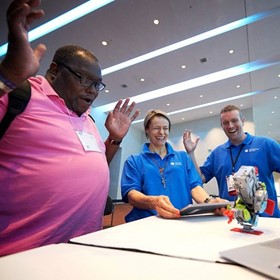 WASHINGTON, D.C. – May 10, 2018 – Taking the stage in Chicago this summer to keynote at the International Society for Technology in Education's (ISTE) Conference and Expo, June 24-27, are five brilliant speakers who will inspire educators with their thinking on brain science, STEM, creative instigation and leadership.
And in keeping with the innovative spirit of ISTE, the conference will feature hundreds of experiential learning opportunities, including a new student hackathon and film festival, an expo hall with over 500 vendors sharing hands-on edtech experiences – from robots to 3D printing to virtual reality, and nearly two dozen playgrounds presented by educators and students to explore the hottest topics in edtech.
ISTE, a global education nonprofit, inspires educators worldwide to use technology to innovate teaching and learning, accelerate good practice and solve tough problems in education.
"This year's keynote speakers demonstrate bold thinking around some of the most critical education topics, including the learning sciences, digital creation and equity," said ISTE CEO Richard Culatta. "The incredible professional learning and peer networking experiences planned at ISTE 2018 ensure all educators are inspired and equipped to bring innovative learning practices back to their classrooms, schools and communities."
This year's keynote speakers are:
Neuroscientist David Eagleman, Ph.D., a bestselling author, professor, speaker, inventor and adviser who uses his knowledge of the brain to not only break down how it works, but to show how you can change your own thinking and find more creativity in your daily life. Reviewers of his book The Brain: The Story of You promise that "on every page there is a revelation so fantastic as to make one gasp." Eagleman's TED Talk audiences agree.
Eagleman is the opening keynote speaker Sunday, June 24, from 5:45-7 p.m.
Andy Weir, author of the #1 New York Times bestseller, The Martian (also a major motion picture starring Matt Damon) and the bestselling novel, Artemis, knows the power of STEM subjects. The Martian, which The Wall Street Journal called "the best pure sci-fi novel in years," delves into orbital mechanics, botany and conditions on Mars. A software engineer for more than two decades, Weir encourages students to be more creative and envision a colorful future through the power of science.
Weir will speak Tuesday, June 26, from 8:15-9:45 a.m.
Katie Martin, Ph.D., the head of partnerships for the West at AltSchool and the former director of district leadership for the Buck Institute for Education. A leader, teacher and speaker, Martin's experience continues to guide her belief that if we want to change how students learn, we must change how educators learn. She holds a bachelor's and master's degree in middle school education, and her doctoral studies focused on new teacher induction.
Martin will speak Tuesday, June 26, from 8:15-9:45 a.m.
Michael Cohen, a designer, educator and creativity instigator known as The Tech Rabbi. His mission is to help educators around the world reveal their own creative abilities so they can empower students to solve interesting problems and become positive contributors to our global society. When he isn't traveling the world sharing his message, he serves as the director of innovation for Yevisha University of Los Angeles Boys School.
Cohen will speak Tuesday, June 26, from 8:15-9:45 a.m.
Nadia Lopez, Ph.D., was launched from a Brooklyn public middle school principal to an educational celebrity overnight when one of her students credited her as the greatest influence in his life on the Humans of New York blog. Today, this founder of Mott Hall Bridges Academy uses her platform to encourage and assist underprivileged communities in creating their own positive impacts.
Lopez will be the closing keynote on Wednesday, June 27, from 2:45-4 p.m.
The ISTE Conference and Expo is one of the world's most influencial edtech events. For more than three decades, educators and education leaders have gathered at the ISTE conference to discover leading-edge practices, share ideas and network with peers to transform teaching and learning. The annual event attracts over 22,000 educators and industry representatives.
Learn more about ISTE 2018 at isteconference.org, and join the conversation with #ISTE18.
# # #
The International Society for Technology in Education (ISTE) is a nonprofit organization that works with the global education community to accelerate the use of technology to solve tough problems and inspire innovation. Our worldwide network believes in the potential
technology holds to transform teaching and learning.
ISTE sets a bold vision for education transformation through the ISTE Standards, a framework for students, educators, administrators, coaches and computer science educators to rethink education and create innovative learning environments. ISTE hosts the annual ISTE Conference & Expo, one of the world's most influential edtech events. The organization's professional learning offerings include online courses, professional networks, year-round academies, peer-reviewed journals and other publications. ISTE is also the leading publisher of books focused on technology in education. For more information or to become an ISTE member, visit iste.org. Subscribe to ISTE's YouTube channel and connect with ISTE on Twitter, Facebook and LinkedIn.