September 27, 2018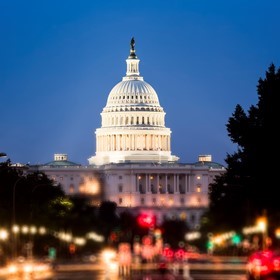 WASHINGTON, D.C. — September 26, 2018 — The International Society for Technology in Education (ISTE), an education nonprofit that aims to use technology to solve tough problems and inspire innovation, applauds Congress' approval of the fiscal year 2019 spending bill that will send funds to our nation's students and teachers.
The bill would provide $2.055 billion for the program that is designed "to provide students from low-income families and minority students with greater access to effective educators through quality professional learning experiences," known as Title II-A, and would increase funding by  $70 million for Title IV-A (the Student Support and Academic Enrichment Block Grant), which supports the effective use of technology, as well as health and safety programs and access to well-round academic programs. If approved by President Donald Trump, Title IV-A funding would total $1.17 billion. If President Trump vetoes the bill, which also includes stopgap funding until Dec. 7, the Department of Education and many other federal agencies will shut down on Oct. 1.
"This legislation demonstrates a national  commitment to fund educator professional learning to use technology to improve learning and accelerate student success. For those reasons, I believe the bill merits the President's signature," said ISTE CEO Richard Culatta." said ISTE CEO Richard Culatta. "What does give me pause is that the bill fails to clarify that Congress had no intention of allowing Title IV-A  funds to be used to purchase firearms for schools. ISTE does not believe that school districts should spend dollars intended for teacher technology professional development, mental health programs and a host of well-rounded academic programs on uses that Congress clearly did not contemplate when crafting the Every Student Succeeds Act. I urge Congress to resolve this issue definitively, in separate legislation, when it returns to session."
###
About ISTE
The International Society for Technology in Education (ISTE) is a nonprofit organization that works with the global education community to accelerate the use of technology to solve tough problems and inspire innovation. Our worldwide network believes in the potential technology holds to transform teaching and learning.
ISTE sets a bold vision for education transformation through the ISTE Standards, a framework for students, educators, administrators, coaches and computer science educators to rethink education and create innovative learning environments. ISTE hosts the annual ISTE Conference & Expo, one of the world's most influential edtech events. The organization's professional learning offerings include online courses, professional networks, year-round academies, peer-reviewed journals and other publications. ISTE is also the leading publisher of books focused on technology in education. For more information or to become an ISTE member, visit iste.org. Subscribe to ISTE'sYouTube channel and connect with ISTE on Twitter, Facebook and LinkedIn.