June 12, 2018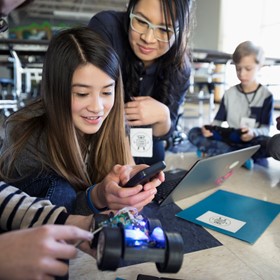 WASHINGTON, D.C. — June 12, 2018 — The International Society for Technology in Education (ISTE) recently released the initial draft of the ISTE Standards for Computer Science Educators. ISTE is providing an opportunity for thought leaders in computer science (CS) education and for educators at all levels to help develop the next generation of computing standards for educators.
The new ISTE Standards for Computer Science Educators, exclusively sponsored by LEGO Education, will establish a vision for the knowledge and skills educators need to effectively teach CS to all students across curriculum and will guide professional learning for all educators. More than 200 individuals provided feedback during the initial phase of the update process. The standards were last updated six years ago.
ISTE brought together a diverse group of individuals who represent many areas of education, from elementary to high school, including teacher preparation, research and evaluation, and expert voices in computing. Organizations represented on the Standards Technical Working Group and Stakeholder Advisory Council include CSforALL, the Computer Science Teachers Association, the National Math and Science Initiative and others. The Technical Working Group is made up of 12 individuals from all levels and areas of education.
"It is an honor to be selected for the ISTE Technical Working Group," said Snehal Bhakta, career and technical education, Clark County Schools and member of the Technical Working Group. "Too often standards are just written words, however the changes we made to the ISTE Standards for Computer Science Educators truly make them relevant and empowering for educators to apply in any classroom by including tags for social impact and real-world application. We all agreed that the standards had to take a global and diverse viewpoint that supported educators and in all classrooms globally."
"Updating the ISTE Standards for Computer Science Educators is a critical step to reaching the goal of providing computer science opportunities to all students," said ISTE CEO Richard Culatta. "The ISTE Standards reflect a significant change – outlining the skills all educators need to prepare their students to be problem solvers and digital creators, no matter what they teach. This is an important shift from the way we've thought of CS in the past, and the ISTE Standards for CSE will help guide teachers and empower students."
From now until July, ISTE is asking all educators to provide feedback. Here are some ways they can get involved. Educators traveling to Chicago for ISTE 2018 can attend an interactive session where they can weigh in on the ISTE Standards for Computer Science Educators. The session will be on Monday, June 25, 9–10 a.m.
The new ISTE Standards for Computer Science Educators will be available fall 2018.
About ISTE
The International Society for Technology in Education (ISTE) is a nonprofit organization that works with the global education community to accelerate the use of technology to solve tough problems and inspire innovation. Our worldwide network believes in the potential technology holds to transform teaching and learning.
ISTE sets a bold vision for education transformation through the ISTE Standards, a framework for students, educators, administrators, coaches and computer science educators to rethink education and create innovative learning environments. ISTE hosts the annual ISTE Conference & Expo, one of the world's most influential edtech events. The organization's professional learning offerings include online courses, professional networks, year-round academies, peer-reviewed journals and other publications. ISTE is also the leading publisher of books focused on technology in education. For more information, visit iste.org. Subscribe to ISTE's YouTube channel and connect with ISTE on Twitter, Facebook and LinkedIn.