June 24, 2018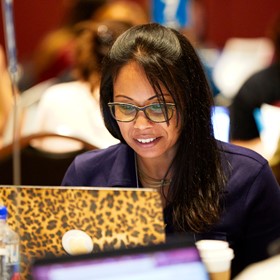 CHICAGO – June 24, 2018 – Education leaders understand that technology can accelerate teaching and learning in their classrooms, and they now have a framework to help focus their digital leadership. The International Society for Technology in Education (ISTE) today released new standards for education leaders that highlight key areas of impact.
ISTE CEO Richard Culatta provided an overview of the new ISTE Standards for Education Leaders (formerly the ISTE Standards for Administrators) at the ISTE Conference & Expo in Chicago.
ISTE received input and feedback on the Education Leaders Standards from over 1,300 educators and leaders from all 50 states and 36 countries. These standards target the competencies and mindset required for leaders to leverage technology to transform how we learn, teach and lead. The standards are focused on some of the most timely, yet enduring, topics in education today — equity, digital citizenship, team and systems building, continuous improvement and professional growth.

The characteristics of effective leaders outlined in the ISTE Standards for Education Leaders are:
Equity and Citizenship Advocate: Leaders use technology to increase equity, inclusion and digital citizenship practices.
Visionary Planner: Leaders engage others in establishing a vision, strategic plan and ongoing evaluation cycle for transforming learning with technology.
Empowering Leader: Leaders create a culture where teachers and learners are empowered to use technology in innovative ways to enrich teaching and learning.
System Designer: Leaders build teams and systems to implement, sustain and continually improve the use of technology to support learning.
Connected Learner: Leaders model and promote continuous professional learning for themselves and others.
The ISTE Standards are a framework for rethinking education and empowering learners. ISTE began a cycle of updating the widely used standards when it released the new ISTE Standards for Students (in 2016), followed by the ISTE Standards for Educators (in 2017), culminating with the ISTE Standards for Education Leaders this year. These three sets of standards together provide a vision for transformation in schools and provide a road map for students, educators and leaders worldwide to rethink education and empower learners.
With the pace of technology constantly changing, one of the themes that emerged in the creation of the ISTE Standards for Education Leaders was the need for leaders to focus on their own continuous professional learning. This includes setting goals to remain current on emerging technologies, collaborating with others through professional learning networks and developing the skills to lead and navigate change.
"As administrators, our responsibilities cover many areas, including technology, which has become a necessary component of living and work," said Curt Mould, director of digital media, innovation and strategy at Sun Prairie Area School District in Wisconsin. "The world our students are walking into is increasingly global and diverse – and technology is often the leverage point needed to bring global and diverse ideas together. In this regard, technology can be a game-changer in our schools. We need a new plan to help operationalize our work for the long-term benefit of our students."
"The ISTE Standards for Education Leaders meet leaders where they are," said ISTE Chief Learning Officer Joseph South. "With the addition of the Education Leader Standards to our updated Educator and Student Standards, leaders have a framework for systemwide change. These standards will help school and district leaders scale transformative education practices and expand pockets of innovation across entire organizations."
Visit the ISTE Standards for Education Leaders page to learn more.
###
The International Society for Technology in Education (ISTE) is a nonprofit organization that works with the global education community to accelerate the use of technology to solve tough problems and inspire innovation. Our worldwide network believes in the potential technology holds to transform teaching and learning.
ISTE sets a bold vision for education transformation through the ISTE Standards, a framework for students, educators, administrators, coaches and computer science educators to rethink education and create innovative learning environments. ISTE hosts the annual ISTE Conference & Expo, one of the world's most influential edtech events. The organization's professional learning offerings include online courses, professional networks, year-round academies, peer-reviewed journals and other publications. ISTE is also the leading publisher of books focused on technology in education. For more information or to become an ISTE member, visit iste.org. Subscribe to ISTE's YouTube channel and connect with ISTE on Twitter, Facebook and LinkedIn.