March 17, 2015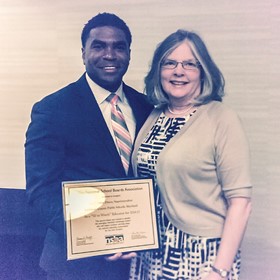 Baltimore County Public Schools superintendent recognized for building equitable, effective, digital learning environment
Washington, D.C. — March 17, 2015 — S. Dallas Dance, superintendent of the Baltimore County Public Schools and member of the board of directors of the International Society for Technology in Education (ISTE) was named a "20 to Watch" honoree for 2014-15 by the National School Boards Association's (NSBA) Technology Leadership Network. Dance is recognized for his ability to inspire colleagues to explore and embrace innovative technology solutions that contribute to high-quality instruction and support more personalized learning experiences for students.
"Creating powerful learning environments where students are engaged and educators are empowered begins with visionary leaders like Dallas and the other honorees," said Brian Lewis, ISTE CEO. "We congratulate all of the ' '20 to Watch' ' winners for their accomplishments and thank them for their leadership."

Among Dance' 's numerous accomplishments is leading the Student and Teachers Accessing Tomorrow initiative to build an equitable, effective digital learning environment for the 110,000 students across Baltimore County Public Schools. Under his leadership, the district has engaged the community in developing a five-year strategic plan for change.
" "This year' 's ' '20 to Watch' honorees highlight the kind of exciting innovations that exist throughout America' 's public schools," " said Thomas J. Gentzel, NSBA executive director. " "These teachers and administrators, with support from their school boards, share a vision for learning that will prepare students for future success." "
The complete list of the 2014-15 ' '20 to Watch' ' is available at the NBSA website.
About ISTE
The International Society for Technology in Education (ISTE) is the premier nonprofit organization serving educators and education leaders committed to empowering connected learners in a connected world. ISTE serves more than 100,000 education stakeholders throughout the world.
ISTE' 's innovative offerings include the ISTE Conference & Expo — the world' 's most comprehensive ed tech event — as well as the widely adopted ISTE Standards for learning, teaching and leading in the digital age. The organization' 's robust suite of professional learning resources features online courses, consulting services for schools and districts, books, and peer-reviewed journals and publications. For more information, visit iste.org. Connect with ISTE via Twitter, Facebook and LinkedIn.
For more information, media only:
Jodie Pozo-Olano, Chief Communications Officer, 804-986-6911, jpozoolano@iste.org
Lisa Wolfe, L. Wolfe Communications, 773-278-2800, lwolfe@lwolfe.com