August 23, 2018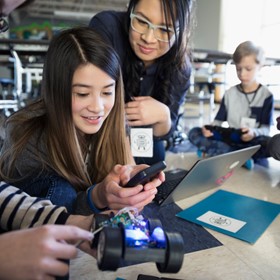 WASHINGTON — August 23, 2018 — With summer coming to an end, students, educators and parents are heading into a new school year filled with new possibilities. As trends in education continue to evolve, Richard Culatta, CEO of the International Society for Technology in Education, shares some shifts we can expect to see based on what's happening in schools and conversations with students, educators and the edtech community.
Here's what's out and what's in this school year:
Out: Digital citizenship as a list of "don'ts"
While it is important to alert students to potential dangers of the internet, presenting digital citizenship as "don't do this" or "don't do that" sends the wrong message about the expectations for using the internet as a powerful learning and problem-solving tool.
In: Digital citizenship as a list of "dos"
Preparing students to be good digital citizens is the most important thing we can do to ensure our democracy for the future, and educators who model that practice will make the most impact on their students. Being a good digital citizen means understanding how to use technology to encourage people to make good choices online, solve problems in your community, engage respectfully with people who have differing beliefs and engage with elected leaders. At our recent conference I urged educators to commit to being an advocate for digital citizenship this year. Get involved at #digcitcommit.
Out: Learning styles
The idea that students learn better when taught through their preferred "learning style" – such as visually, aural, or kinesthetic – has been debunked by research.
In: Learning sciences
Cognitive research is giving us unprecedented insights into the way humans learn. We can leverage learning science to reduce the time it takes to reach mastery, improve how we assess learning and inform the order of concepts we teach. Our ability to put what we know about learning into practice can shift teaching and learning.  
Out: Computer labs
As schools provide students and teachers with the digital tools they need in the classroom, fewer students experience the disruption of leaving their classroom to visit a big, sterile room with rows of desktop computers (only to have their work deleted when the next class comes in).  
In: Wi-Fi in the classroom
Through the ConnectED (E-Rate) program, 97 percent of U.S. schools now have access to Wi-Fi in their classrooms. Mobile learning and 1:1 environments are becoming the norm, opening up a world of possibilities for students from using tech to design and create as well as collaborating with students from around the world.
Out: Student as consumers  
The role of students is no longer to be only consumers of content. With the vast number of digital creation tools available, treating students as sponges is officially "out."
In: Students as creators
The abundance of inexpensive, high-quality technology tools has allowed just about anyone to create their own media and share it with the world. Kids creating their own learning podcasts is just the beginning. In Pennsylvania, students run a YouTube Club to showcase students and educators! In the classroom and at home kids are creating passion projects, and the learning that comes along with it is deep and rich.
Out: Lesson plans
Teachers walking step-by-step through canned lesson plans without additional resources to adapt to students needs and interests. 
In: Designing instruction  
Teachers are becoming the DJs of learning, creating, borrowing and sharing resources to create a fluid learning experience for students tailored to their interests, needs and learning goals. This is a shift from scripted teaching to teachers playing the role of designers, applying principles of student-centered learning to create innovative digital learning environments for our kids. 
Out: Email
Relying on email to reach parents and students is out. For many students the only purpose of their email account is to receive the "verification' email when signing up for a new social media service. Technology allows us to share information, in shorter bytes, on more frequent basis.
In: Real-time updates and direct messaging
Sharing feedback and updates when they are most helpful and relevant is becoming an expectation between teachers and students, as well as teachers and parents. Take,for example, the unprecedented adoption of tools and apps that support real-time communication about student progress, key assignments or tips for supporting learning at home.
###
About ISTE
The International Society for Technology in Education (ISTE) is a nonprofit organization that works with the global education community to accelerate the use of technology to solve tough problems and inspire innovation. Our worldwide network believes in the potential technology holds to transform teaching and learning.
ISTE sets a bold vision for education transformation through the ISTE Standards, a framework for students, educators, administrators, coaches and computer science educators to rethink education and create innovative learning environments. ISTE hosts the annual ISTE Conference & Expo, one of the world's most influential edtech events. The organization's professional learning offerings include online courses, professional networks, year-round academies, peer-reviewed journals and other publications. ISTE is also the leading publisher of books focused on technology in education. For more information or to become an ISTE member, visit iste.org. Subscribe to ISTE's YouTube channel and connect with ISTE on Twitter, Facebook and LinkedIn.