May 23, 2018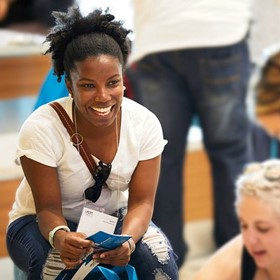 I was lucky enough to attend my first ISTE Conference in 2017. It was an incredible learning experience, but I am haunted by how much I might have missed. Now that I have experienced the conference, I want to share some updated tips for anyone who will be attending this year.
I know there is a lot in this post, so my advice is to explore one tip at a time and not try to run through this whole post in one sitting. I hope there is something here that can help everyone make the most of their ISTE experience.
Tip 1: Know your why
Planning and organizing your days is important (Tip 3), but if you focus only on the where and the when, you might miss out on a more complete learning experience. Last year I spent too much time micromanaging my day without really connecting my plan to bigger learning goals. This year I plan to develop a mindset connected to these three themes and quotes.
Make connections and have conversations — be present: "Everyone you will ever meet knows something you don't." – Bill Nye
Create a complete experience — don't forget that doing something fun can be a learning experience: "Don't forget to stop and smell the roses." – Walter Hagen
Build a bigger and better PLN: "I have no special talent; I am only passionately curious." – Albert Einstein
Tip 2: Engage in the conversation today
Don't wait until the conference is here to start engaging in the learning. The ISTE 2018 Network is a great discussion forum to get you started on your learning path for the conference!
Tip 3: Do your research
Explore the ISTE Learning Guide, download the ISTE 2018 app, and search the online program.
Tip 4: Stay organized
Google Keep is a great resource to create reminders, notes and checklists. If you use the extension, you can even save links to resources. The Keep Notepad in Google Docs is a great bonus if you are using documents for your conference notes.
Tip 5: Collaborate and share
There are many great tools educators can use to create collaborative notes and share resources. Google Drive has become my go-to collaborative resource, but it can quickly become a cluttered mess if not organized. Read these posts to learn more about staying organized with Drive.
Tip 6: Don't skip the poster sessions
I didn't discover the poster sessions at ISTE 2017 until the second day of the conference. I learned more in one hour in a poster session than I did the entire previous day. I was fortunate to be an ISTE evaluator for the poster sessions for ISTE 2018, and you will not be disappointed by the incredible poster session facilitators this year.
Tip 7: Be present
Connect with your digital PLN. Connect with vendors. Connect with presenters. Connect with new people. Don't be the anonymous person in the back corner of the room. You will miss too much alone. Find someone new to talk to. Step out of your comfort zone and grow as a teacher and a learner. As Seth Godin said, "We learn best when we learn together."
Tip 8: Organize your social feed
The hashtag this year is #ISTE18, and it will be moving fast one the conference gets rolling. Jumping into the Twitter hashtag stream can quickly become overwhelming.  I always try to remember that it's OK to miss some tweets. Here are a few tips to help organize your social media engagement.
Tip 9: Have some fun and take some breaks
ISTE is an incredible learning experience, but you'll need a break. There are a lot of great tour guide books for the Second City, but one of my favorites is 100 Things to Do in Chicago Before You Die by Molly Page. Here are a few of my favorite things to do in Chicago.
There are of course many great restaurants and taverns to explore.
Tip 10: Reflect and share
Whether you blog, share via social media or share your notes with a colleague, it is important that you share your learning. You never know what connections you might make if you share your ideas and resources.
Make daily reflection a regular part of your learning process. Take time to look over your notes and make connections to your teaching every day. Don't isolate the conference from your classroom and school. I've been to too many conferences and sessions where I took some incredible notes, but then never went back and connected these notes to my teaching and learning experience.
Steve Wick is an ISTE member and a science teacher and technology coordinator at Neuqua Valley High School in Naperville, Illinois. He is a passionate explorer of educational technology, failing forward, G Suite for Education, formative assessment, student-centered classrooms, the growth mindset and professional development best practices for educators. Read his blog and follow him @WickedEdTech.