December 1, 2017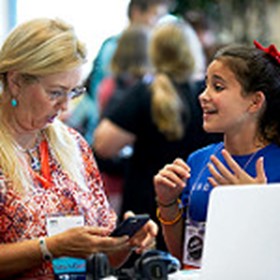 If attending the ISTE Conference & Expo feels out of reach financially, don't worry! With a bit of strategy and planning, ISTE 2018, June 24-27 in Chicago, won't break the bank.

Here are some tips to help your experience fit your budget:

1. Make a plan. The largest expenses associated with attending any conference are lodging, transportation and food. Explore your options and make early reservations, when the best prices are available.

2. Stay in conference hotels. ISTE has held rooms for conference attendees at a wide range of Chicago hotels. Book as soon as possible lodging reservations open Dec. 1. Visit the housing page to browse properties, rates and availability.

3. Make the case to your boss. Convince your school or district leadership of the value of ISTE 2018, and they might just fund all or part of expenses. Need help? We've got tips and a pre-written letter to help you make the case.

4. Use public transportation. Skip the rental car and take advantage of Chicago's public transportation system or ride sharing. And remember, ISTE provides buses from conference hotels to the convention center each day of conference.

5. Travel with a team. Traveling with a group of colleagues adds to the fun and can allow you to split the cost of hotel rooms and transportation. On top of that, ISTE offers group registration rates for qualifying schools, institutions and education nonprofits.

Traveling with colleagues as another benefit: You can divide and conquer conference content, allowing you to back even more ideas to enrich your classroom.

6. Reduce meal costs. There several ways to keep your meal costs in check:
Fill the fridge in your room with snacks and meals. Your best bet is to call ahead to confirm your hotel provides a refrigerator. If not, some hotels will bring one to your room upon request with no additional charge.
Grab breakfast foods and a few staples at a nearby grocery store.
Pack a water bottle and fill it throughout the day at the convention center.
Attend ISTE 2018 networking events that include free food.
7. Get creative. If the above cost-cutting tips aren't enough to make ISTE 2018 a reality, consider fundraising, contests and grants. ISTE and its partners often announce contests where you can win free conference registration. Follow ISTE on Twitter and watch for Edutopia's Big List of Educational Grants and Resources article. Or create a DonorsChoose project to fund your professional development.
Registration is now open for ISTE 2018.