June 5, 2018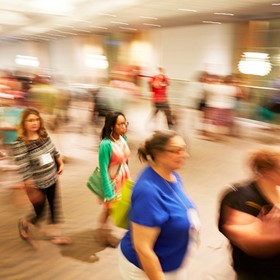 If this is your first time traveling to the ISTE Conference & Expo, you might be getting pretty excited by now. Soon you'll be in Chicago rubbing elbows with some of the biggest names in the field with thousands of educators who share your enthusiasm for transforming learning.
We want to make sure you are prepared to take full advantage of this electric experience. Read these seven posts offering tips, advice and resources for making the most of your conference experience.          
1. Advice from a veteran.
Educator Steve Wick might not consider himself a veteran of the ISTE conference — after all, he's only been once, to ISTE 2017 — but his 10 tips certainly feel like they were written by someone with experience, so we're calling him a veteran. 
2. Set your goals.
You'll be surrounded by things to learn, ideas to share, sights to see and people to meet, and it's impossible to do it all. It helps to decide on your goals ahead of time so you can plan your schedule around them. Find out how to make the best use of your time for networking and gathering resources.
3. Divide and conquer sessions.
One way to take in more learning is to bring your entire team to ISTE 2018. Here are some tips for collaborating with your colleagues to get the most out of your shared conference experience.
4. Plan your trip to the expo hall.
With 550 companies represented, it's difficult to visit every booth in the expo hall, so you'll need to map out a strategy. Longtime ISTE attendee and presenter Maureen Yoder shares her time-tested approaches for expo hall preparation and execution.
5. Choose session types that fit your learning style.  
ISTE 2018 features a range of session types to suit all kinds of learners. Whether you learn best from hands-on experiences, traditional lectures or fast-paced presentations, you can choose the way you prefer to learn from among the more than 1,200 sessions.  
6. 6 places to explore at ISTE 2018.
We've created a range of different spaces where you can explore on your own or just gather your thoughts and plan what you want to do and see at ISTE 2018. From quiet and restful environments to areas buzzing with energy, you'll find just the setting you need.
7. See the sights.
Chicago is a feast for the senses! Find out about museums, historic sites, shopping, restaurants and more!