June 1, 2018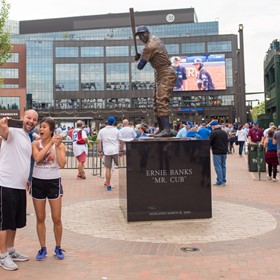 ISTE 2018 will provide endless opportunities to connect with other passionate educators, but not all networking happens at the convention center. You can keep conversations going and get to know your new contacts better by venturing out.
Nearby sites
Chicago is a feast for the eyes, beginning with its museums, which are a far cry from old and boring. Take, for instance, The Art Institute of Chicago, rated a perfect five stars on TripAdvisor and number one of 683 attractions.
Pass through the bronze lions at the entry to view paintings like Grant Woods' "American Gothic," Georges Seurat's "A Sunday on La Grande Jatte" and Marc Chagall's "American Windows" – all pieces even those who skipped art classes will recognize. And if this whets your appetite, head over to the Museum of Contemporary Art where the displays take on a very current flavor.
Don't pass up the Adler Planetarium (everything you wanted to know about other worlds), Field Museum of Natural History (home of the Sue the T-Rex, the world's most complete dinosaur at 80 percent, and more than 20 mummies) or the Shedd Aquarium (more than 8,000 aquatic animals you can watch), either. They're all located close to each other for your travel convenience.
At the Museum of Science and Industry, you can explore a German submarine and visit Chicago's Main Street of yesterday, including Berghoff's restaurant and the Walgreen's Drug Company. Interactive is the name of the game as you work your way through mirror mazes and step into the eye of a tornado.
Keep the interaction rolling with a subway trip to the Lincoln Park Zoo, one of the last zoos in the country that doesn't charge admission. You're free to roam the 35 acres to watch the apes, zebras, flamingos and the polar bears!
Garfield Park Conservatory is a sensory overload of a natural kind. One of the largest conservatories in the world, it's often described as landscape art under glass. Be sure to check out the prairie waterfall and bring home some stunning photos.
Want to soar over the city? There are two opportunities to experience Chicago from dizzying heights, starting with 360 Chicago at the Hancock Tower. Take a quick ride up to the 94th floor to see four states from the new Tilt thrill ride that leans you into the view, literally. And there's the Willis Tower Skydeck (residents still recall when this was named the Sears Tower), the second-largest building in the United States. Again, glass boxes allow you a unique viewing experience that will show you just how brave you are. Night views are particularly stunning.
Feed your soul
You can't visit Chicago without having at least one slice of its namesake pizza. Deep dish is a treasure here, with hungry patrons lining up at The Art of Pizza, Bella Bacino's and Giordano's nightly. But even thin crust is a specialty here, as Vito and Nick's has proven to the city since 1949.
Chicagoans take their brunch seriously, from the chicken and waffles and shrimp and grits at Luella's Southern Kitchen to Old Town Social that knows how to blend breakfast into lunch with its BLT Benedict to Beatrix that knows how to make pancakes a healthy experience. And Cellar Door Provisions changes its menu daily, but every entrée is unforgettable.
Fine dining aficionados can't wait to get a table at Alinea in Lincoln Park, where the presentation is as important as the flavor. Chef Grant Achatz's second restaurant, Next, is also taking the city by storm with its playful interpretation on eating. Rick Bayless is another big name in Chicago restaurants; make reservations for his Topolobampo and enjoy the menu that President Obama and his family favor.
But even eating on the run and on a budget is a treat in Chicago. You can't go wrong with a hot dog at Portillo's, a sub sandwich at J.P. Graziano Grocery & Sub Shop or a grilled cheese at Gayle's at the farmer's market on the Loop. Mexican food lovers shouldn't miss the tacos at Carnitas Uruapan, either.
But whatever you do, do not leave the city without trying Garrett Popcorn. Trust us, one tin will never be enough.
On the run
Don't worry. There are plenty of ways to work off the calories from your food indulgences. After all, nearly everyone will hit at least a few stores along Chicago's Magnificent Mile. It's practically a rite of passage to wander through Bloomingdales, Nordstrom and Saks Fifth Avenue.
Boat rides along the Chicago River are plentiful and a must to experience the city's skyline from a unique vantage point. Sports lovers may not be able to resist grabbing tickets to a Cubs or White Sox game; the iconic Wrigley Field itself is a rollicking atmosphere even if you're not into baseball. And everyone over 21 will find something to laugh at The Second City, the comedy club that launched careers for Bill Murray, John Candy and Tina Fey. Tickets sell out fast, so book this one in advance.
Another book-ahead option, "Hamilton: An American Musical" at the CIBC Theatre. Our contacts who have seen the show in Chicago confirm it's worth it!
Architecture is an emphasis in Chicago, and it's easy enough to find a Frank Lloyd Wright tour in multiple sections of the city.
Meanwhile, TripAdvisor has named Chicago Architecture Foundation River Cruise tour one of the top 10 in the United States. Or take daring to new levels with an iFly  indoor skydiving experience.
And you can't earn your stripes as a tourist until you drop into Navy Pier to stroll around the beer garden, take a turn on the Ferris wheel and snap a few stunning pictures. Speaking of photos, don't forget to get a selfie at Millennium Park with the bean. The Cloud Gate, as it's officially known, has become a passport stamp of sorts to prove you've been here.