June 7, 2018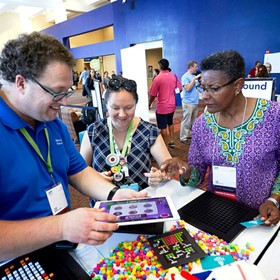 ISTE's 24 professional learning networks —  which cover topics ranging from STEM and digital citizenship to literacy and digital storytelling — offer ISTE members robust learning experiences year-round in the form of webinars, book chats, discussions and more.
So it's no surprise that these networks have a huge presence at the ISTE Conference & Expo, the biggest edtech PD event of the year. That's why we tapped a few PLN leaders and asked them to share their picks for the best sessions and events related to their topics. Here's what a few of them offered:
Digital Equity Network
Regina Schaffer, co-chair of the ISTE Digital Equity Network, pointed to several sessions that provide an overview of digital resources and expertise that will expand learning opportunities for historically disadvantaged students, locally and globally.
"These panel sessions will present attendees with information to further their awareness of how to create equitable learning ecosystems that leverage digital tools, funding and resources that will empower all stakeholders," she said.
Why Digital Equity Matters: As we reimagine and further define digital equity, there's an increasing need for professional learning opportunities. Attend this session for a discussion about the multiple dimensions of digital equity with the goal of determining actionable steps for K-12 campuses.
CoSN CTO Forum: Building a Community Conversation on Digital Equity: Student access to robust digital tools is key to their success. Many students from economically disadvantaged families have limited access to these tools both at school and at home. CoSN is working to close the access gap for learning. This session will offer strategies and tools to support your work.
Successful and Sustainable Makerspaces in Low-Income and Rural Schools: This panel of educators who hold various positions within their school districts will confront common challenges in creating successful and sustainable makerspaces in low-income and rural schools.
Funding Your Dreams: Grant Writing in the Information Age: Find out what funders look for in technology grant proposals and gain the fundraising insight needed to help you capture part of the billion dollar funding pie. This lecture will explore government, corporate and foundation funding opportunities for students, teachers, institutions and companies related to education, technology and professional development.
Digital Equity Network: What Digital Equity Means Today! Access and opportunity for all learners is a necessity. This session will examine projects from teachers and students that embrace digital equity for all learners, and experience activities for both formal and informal educational environments in this poster session.
Young Educator Network
Fanny Passeport, incoming chair of the ISTE Young Educator Network, recommends listening to the youth — both young educators and student presenters.
"We love to promote the student-led Ignite sessions as they inspire and make us reconsider new alternatives when teaching. We also highly recommend the young educator Ignite sessions as they are short, sharp and sleek!" she said. "We also want to encourage everyone to reach out the the Young Educator Network whether you consider yourself 'young' or 'young at heart.'"
ISTE Ignite Sessions — Round 1 with Student Ignites: Kick off your ISTE 2018 experience by attending an ISTE Ignite session, featuring student presenters who will have just five minutes and 20 slides each to share their passions in a continuous rapid-fire presentation. 
Edtech Coaches Playground: Tools for Coaches? Yeah, We've Got 'Em: The Edtech Coaches PLN will share tools and success strategies for those who coach other educators.
ISTE Ignite Sessions — Young Educators Network: Attend the third and final round in the series of ISTE Ignite sessions featuring the stories of young educators. Presenters will have just five minutes and 20 slides each to share their passions in one continuous rapid-fire presentation.
Teacher Education Network
Rachelle Dene Poth, president-elect of the ISTE Teacher Education Network, recommends sessions and events that help educators incorporate the ISTE Standards for Educators into their practice so they can prepare current and future teachers to do the same.
Top 10 Tools Every New Teacher Needs! Updated Advice from Teacher Educators: Do new teachers really need to be experts in all things Google? How about Twitter? This interactive session will showcase an updated crowdsourced list of top 10 innovative tools every new teacher needs, then engage in a critical discussion about using these tools to motivate and engage students.
TEN Playground: Tools, Resources & Ideas for Implementing the ISTE Standards for Educators: Join Teacher Education Network leaders and community members to learn how they incorporate the ISTE Standards for Educators into their practice and prepare current and future teachers for doing the same. At this interactive playground, you will discover digital tools, learning activities and PD ideas for the ISTE*E Standards.
Latest Word: On the Leading Edge of Technology Integration in Higher Education: Explore innovative practices among higher education faculty focused on integrating technologies and engaging learners through innovative pedagogy to prepare future-ready professionals. Then engage in small groups to generate ideas and discuss how to impact educational contexts in higher education, all with a goal of improving innovation, technology and teaching in higher ed.
The Role of Higher Ed in Preparing the Next Generation of Educators: The ISTE Board of Directors will host a conversation with members of the higher education community around the role of technology in higher education. Discussions include technology initiatives in the schools of education and how the ISTE Standards can support preservice curriculum to prepare the next generation of educators.
JDLTE Research Research Award: Validating the Technology Proficiency Self-Assessment Questionnaire for 21st Century learning: The ISTE Teacher Educator Network (TEN) supports the annual Journal of Digital Learning in Teacher Education Outstanding Research Paper award paper presentation on Technology Proficiency Self-Assessment (TPSA) survey, a reliable and valid instrument worthy of use with preservice and in-service educators for planning professional development related to technology integration.
Librarians Network
Nikki D. Robertson, president-elect of the ISTE Librarians Network, chose sessions that focus on connecting with other librarians, learning from experts, empowering student voice and STEM.
Digital Portfolios & Partnerships: Digital portfolios allow students to provide evidence of achievements, hobbies, struggles and growth. This session will share various experiences of facilitating portfolios. Discover resources, experience a mini-class on portfolios, and find out how you can use portfolios to support student growth.
Digital Age Librarians: This panel moderated by Shannon Miller featuring author-librarians, Colette Cassinelli, Diana Rendina and Nikki D. Robertson will focus of tips and best practices for reimagining the library for modern learners from librarians who work in school libraries and can relate to the daily trials and triumphs. 
ISTE Librarians Network Playground: Information Fluency, Creativity and Innovation: ISTE Network Playgrounds provide attendees with a wide variety of learning in a relaxed and interactive atmosphere. The ISTE Librarians Network Playground is the perfect place to connect with other librarians, discover innovative technologies, learn about resources that support development of information literacy skills, explore the latest in research and information fluency, and dive into creative and innovative activities lead by librarians just like you and me.
STEM Network
Joseph Kleinmann, incoming chair of the ISTE STEM Network, says the purpose of the STEM Network is to connect interested ISTE educators so they can discuss, explore and share best practices, research and experiences in authentic teaching, learning, assessing and advocating.
"For ISTE members who would like to connect with STEM PLN Network members to share fact, fable and food at a STEM get together, and enjoy a smorgasbord of STEM activities presented by teachers, researchers, and industry proponents, we have a couple of events to recommend," Kleinmann said.
STEM Meet-and-Greet: This conference social event is open to all who want to network with like-minded educators and sponsors of the STEM Network with food, fun, and conversation. Sign up on Eventbrite — last year's waitlist topped 400 people!
STEM Playground: The Future Powered by STEAM: The STEM Playground offers an opportunity for all educators to participate in hands-on play with classic and new research-based tools, share ideas and experiences in an informal setting, see examples of student work and leave inspired to try new things, all related to STEAM. The playground also provides an outlet for STEM educators and sponsors to share their lessons and materials with like-minded enthusiasts.
The ISTE18 STEM PLN Top Picks: This is not a conference session or event but a guide to ISTE 18, put together by the STEM PLN. These ±20 STEM-focused presentations are outstanding among the other outstanding presentations.  
Digital Citizenship Network
Vanessa Monterosa, Ed.D., incoming chair of the ISTE Digital Citizenship Network, says too often digital citizenship is a topic that falls on classroom teachers, but it shouldn't be. District leaders, external communities and the entire school staff need to be familiar with the concept.
"Digital citizenship in the classroom is a saturated topic, which is why it is critical for us as dig cit educators to think more broadly about the greater context and systems in place that are in need of digital citizenship integration," she says. "The sessions highlighted represent perspectives that look at digital citizenship on a larger scale — one that considers policy, families and systemic strategies to create a foundation for digital citizenship that extends beyond the classroom.'
Prevention Science: A Framework for Positive Digital Citizenship: The new definition of digital citizenship offers an opportunity to change mindsets from the negative and prevention model to the positive and empowerment model. Applying a community approach toward digital citizenship encourages more conversation and deliberate relationship-building as key to the side-by-side learning and mentoring essential in a digital world.
Digital Citizenship Roadmap for Schools and Districts: This updated topic will draw in the changes to ISTE Standards related to digital citizenship in schools. This session will have real-world plans and ideas for digital citizenship for everyone. You'll move beyond theory and show how digital citizenship can come to life in the community.
#DigCitLA: Cultivating Digital Citizenship Districtwide From Policy to Practice: In this session, attendees will gain a deeper understanding of district-level complexities and systemic practices that both hinder and support the integration of digital citizenship throughout district-level policies and instructional practices.
Computer Science Network
Kim Lane, president of the ISTE Computer Science Network, says coding is foundational for every 21st century learner, and there will be ample opportunity to learn more about how you can incorporate it into your schools and classrooms at ISTE 2018.
"So, prepare to get drenched as we open the valves with new and exciting CS info, resources and ideas including guest keynoter Mitch Resnick (creator of Scratch programming software and its online community) as well as quality professional development from Microsoft, Google for Education , WeTeach_CS, MIT Media Lab (Scratch 3.0), Bootstrap and BirdBrain Technologies. 
CS Firehose 2018: This preconference event will be an intense series of concurrent sessions of presentations and activities addressing the many interrelated educational initiatives, ideas and curricula that focus on computational thinking and computer science. Michael Resnick from MIT's Lifelong Kindergarten program will keynote.
Computer Science Network Playground: CS, Computational Thinking and Robotics: At this highly interactive event you will learn from students themselves about new and updated resources for computer science (CS) and computational thinking (CT). These opportunities embrace CS and CT at all levels and will include both formal and informal educational environments.