May 31, 2018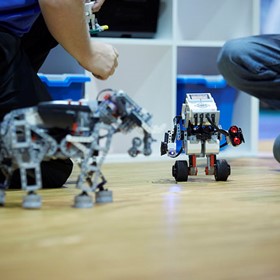 Just as technology is constantly evolving, so is the ISTE Conference & Expo. Read on for a rundown of changes coming to the ISTE 2018 in Chicago!
A hackathon is a creative collaboration where students work in teams to solve real-life problems that impact society. Watch students in action as they create their prototypes during the ISTE Student Hackathon in the expo hall Monday and Tuesday. Then, on Wednesday, students will present and share their solutions.
When and where: Prototype creation, Monday, 9:30 a.m.–5:30 p.m., and Tuesday, 9:30 a.m.–5 p.m., in the expo hall; presentations, Wednesday, 8:30-9:30 a.m., Room W181A.
Student Technology Conference
More than 400 students will be attending ISTE and the student conference is a chance for presenting youth in grades 2-8 to meet each other, share their passion for learning and collaborating, and exchange ideas.
When and where: Sunday, 10 a.m.–3 p.m., Room W183B.
Experience global student voices through student-created films in which learners share their perspectives with the world. Students ages 5-18 were invited to create 2-minute films highlighting empathy by responding to the them, "In Another's Shoes."
When and where: Monday, 1-3 p.m., Room W181.
ISTE Central Stage
Stop in for a 30-minute book talk by an ISTE author, listen to a presentation about a new tool or professional development opportunity or meet an ISTE keynote speaker at ISTE Central Stage inside ISTE Central. This small stage offers an intimate atmosphere to meet an edtech influencer and learn something new.

Where: Level 3, Central Concourse.
ISTE author Jaime Donally will lead this learning adventure showcasing a number of augmented and virtual reality tools. Participants will get a free Google Cardboard viewer and have an opportunity to win prizes. 
When and where: Saturday (preconference), 2-4 p.m., ISTE Central Stage. 
Meet the authors
More than 20 ISTE authors will be presenting at the conference and many will be giving short presentations on ISTE Central Stage and will take questions and sign books. Look for Carl Hooker (ISTE Mobile Learning Series), Liz Kolb (Learning First, Technology Second) and Nikki Robertson (Connected Librarians).
Interactive ebook kiosk
Choose from available ISTE titles, scan a QR code and download ebooks directly to you device. It's that simple.
Where: The bookstore inside ISTE Central. 
The Edtech Pitch Fest
The popular Edtech Pitch Fest — where startups pitch their edtech product ideas and attendees vote on the winners — will expand beyond the conference this year. ISTE and AT&T have pioneered a new online voting format that allows anyone to watch a series of 60-second videos and vote for their favorite product or company from any device.
The videos will play on monitors in the Edtech Startup Pavilion, expo hall Booth #1644, and in the Level 3, Skyline Ballroom pre-function area stage throughout the conference. Go to isteconference.org/pitchfest to view the 10 videos, cast your vote and be entered to win a free registration to ISTE 2019 in Philadelphia!
When: Voting begins Sunday, June 24, at 5 p.m. CT and closes Tuesday, June 26, at 6 p.m. CT. The winner will be announced on Wednesday, June 27.
ISTE 2018 Leadership Exchange
Designed for superintendents looking to lead tech transformation, the leadership exchange is comprised of three events: a forum, an expo hall preview and a wrap-up breakfast. You must have the job title indicating a district leadership position (superintendent, assistant superintendent, CTO) to participate.
Contact Alyssa Voyles at avoyles@iste.org to sign up.
Keynote changes
In place of a single keynote speaker on Tuesday morning, three speakers will give shorter talks. The Tuesday keynote speakers are Andy Weir, author and former software engineer; Katie Martin, education leader, teacher and author; and Michael Cohen, designer, educator and creativity instigator. The opening keynote on Sunday is David Eagleman, bestselling author, professor, speaker, inventor and adviser, and Wednesday's closing keynoter is Nadia Lopez, education leader and school founder. 
Smart badges
Attendee badges just got smarter! This year, ISTE is using smart badges with beacon technology to help us create the ultimate learning experience. These badges will provide the  ISTE Conference Planning Team with information on session attendance, traffic in the expo hall and engagement in our open spaces. And attendees will get their "ISTE 2018 Journey" recap and personal resource collection in a post-conference email!