October 1, 2014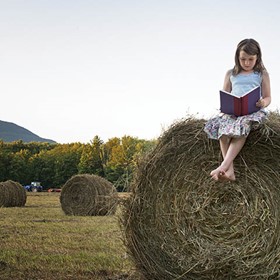 When Kecia Ray of Nashville, Tennessee, was on a team charged with finding out what schools of the future should look like, she did a dangerous thing: She asked the students.

In order for you to be excited about school, what would it look like? " "We got a ton of ideas," " she says. " "None of them were more rigid seats. None were, 'Give us more textbooks we love them!'" " Instead, the answers were more like this:

 We want to be comfortable
 We want fewer textbooks.
 If we want a book, we want to be able to have one.
 But if we don't, we want a device that has all the information on it.
 We want more flexibility.
 We want to choose our own pace for learning.
 We want to choose our own place for learning.

Those answers, and many more, were incorporated into a blended learning program now being rolled out in the highly praised Metropolitan Nashville Public Schools, where Ray, ISTE board chair, serves as executive director of learning technology. Three anchor schools are open as models so everyone interested can see a working example of what lies ahead.

And the payoff?

" "To see the pride in their faces, that we took the time and cared enough to improve the physical space where they go to school is priceless," " Ray says. Instead of walking into schools intended for students born half a century or more ago, there is a new energy and youthfulness to the culture. " "They respond very positively to the blended side. There is nothing more powerful than a student telling you where they are in their own learning process. We have flipped the switch; they are owning their learning." "

Three critical issues

Ray and many other global educators are demonstrating that we cannot reinvent learning to match the future without addressing three critical areas: time, place and space.

Time. Schools internationally are blowing up the long-held " "cells and bells" " idea an agriculture-based school calendar that lines up students at 8 a.m. weekdays, shuts the door behind them, rings bells every period and locks up the campus at the end of the day.

Many schools in the United States are getting creative with the timing, such as block scheduling, four days of classes and one day of community service, going to school for three hours and working at home in a blended home school. An aspiring rocket scientist in Atlanta, Georgia's, Lovett School, for example, can take classes at school and still make time to tap into NASA resources to pursue his passion. Students can often adjust their schedules to learn the toughest things when they have the most energy. The whole notion of formal learning versus informal learning is taking on a new shape.

Place. Learning doesn't just happen in the classroom. Online lessons or flipped classes using mobile devices mean students may also be watching their teacher explain multiplication in a garden, a coffee shop, in a hammock or on the top bunk in their bedrooms. Students who take a minimum class load and spend the remaining time doing a service project in the community can apply for grants. Other students may take two weeks to study at a sister school in Ecuador during the school year. Perhaps there will be an embedded semester in an engineering department of a local university.

In short, learning walls have come tumbling down.       
                
Space. The learning spaces of the future will encourage students to read on the floor, rock safely in their chairs, collaborate in small groups, walk around, make things, talk out loud, write on the glass walls or work in a garden. Tables and chairs often are mobile so they can accommodate learning stations at 8 a.m. and be quickly moved aside for collaborative projects at 10 a.m., and restructured again when there is quiet reflective time at 1 p.m. Finishes, textiles and technology are being redesigned to meet  students' physical and aesthetic preferences not just the custodians' needs.

Look back to move forward

We cannot look at where we're going without looking at where we've come from, according to ISTE member Christopher Johnson, Ph.D., associate professor of educational technology at University of Arizona South, and chair of advocacy and public policy for the ISTE affiliate Arizona Technology in Education Association.

In his popular writing, teaching and presentations, he takes us back to prehistoric times when we used the honored tradition of learning by storytelling; then he moves us on to the Henry Ford ideas of assembly-line efficiency a row-by-row, be-quiet-in-your-seats, top-down approach that prevails in many school districts today.

Now, Johnson appreciates the philosophies of the authors of The Third Teacher, which focus on a very important word in his estimation, " "interactions." "

On the website, the team of educational design consultants explain it this way: " "In the 1940s, pioneering Italian teacher and psychologist Loris Malaguzzi founded the Reggio Emilio approach to learning on the premise that children develop through interactions, first with the adults in their lives parents and teachers then with their peers, and ultimately with the environment around them. Environment, said Malaguzzi, is the third teacher." "

They have a simple idea: " "It seems obvious but is often forgotten: Teaching and learning should shape the building, not vice versa." "

Ray and her team certainly get it. Their intention is to reflect all the students' needs in the Nashville school experiences. The design is based on maximum choices and connections.

Desks in Nashville and elsewhere are being traded for comfortable chairs around tables. Stools and chairs swivel and adjust to easily accommodate wiggles and conversations. Surfaces may be tile, wood or carpet to encourage stocking feet. There are charging stations, internet cafes.

The classroom design encourages students to move to different centers to solve problems. There are production rooms to create videos, maker spaces, maker-movement projects.

At each center in the classroom, Ray says, the students are exposed to different types of content or activities. For young students, about 30 percent of their instruction will be in a digital format.

" "Parents are not comfortable with children having excessive access to the internet," " Ray says. " "It's a different generation. They don't want their children to be on devices all the time. So we took that into consideration." "

Middle school students get direct instruction from their teachers, and, using a blended platform, they progress at their own pace.

By high school, 70 percent of their instruction is on the internet.       
        
School is becoming less a place for direct instruction and more a place to collaborate and partner with teachers and peers on projects.

" "This is the evolution we have going on in our school today," " she says.

Structuring the school day

ISTE member Laura Deisley is the director of 21st century learning at the Lovett School, an independent K-12 school with nearly 1,100 students in Atlanta, Georgia.
The students at Lovett aren't lashed to a rigid schedule of prescribed classes at inflexible times and places any more than the television audience that was once required to show up at 6 p.m. to watch Walter Cronkite deliver the evening news. A school structure based on student goals needs to be imperative in modern schools, Deisley says.

" "We need to make the experience of learning more expressive of who they are," " says Deisley.

Lovett puts a priority on accommodating the personal choices of students with time, space and place. So when a talented young gymnast in their school has to spend eight hours a day in the gym, they make the school day work for her.

Deisley says one of the students wants to be a rocket scientist. Lovett doesn't have a course in rocket science, but he is encouraged to use his school time learning from to NASA-supported resources and even to connect with the robotics team at Georgia Tech. His associated activities needed a more informal learning space, so the school was able to devise a maker space out of an old shop that is now working out quite well for him and others.

More innovation is ahead. They recently acquired a grant to create a semester school in Atlanta that would immerse students from throughout the city in one of the design colleges, also a collaboration with Georgia Tech. The students will be exploring questions around water, transportation, cultural issues, sociological issues, race and segregation and what that means for the city's sustainability.

" "They will spend a good chunk of time working on prototype solutions," " Deisley says, " "which they will come back and share and hopefully create an incubator for those ideas to move forward. That is a different look at the school day." "

Fluid learning environments

Global Online Academy (GOA) is the Cirque du Soleil of time, space and place options and Amy Hollinger, director of professional development, is a high-wire performer. Her daily schedule is nothing short of acrobatic, enabling her to teach video online to students in nine time zones. GOA has 53 schools around the world.

She brings a new perspective to the discussion. How does the fluid learning environment affect the teachers and administrators?  A mother of three children ages 13, 11 and 8 who lives with her husband in Redmond, Washington, Hollinger may begin her day with a 6 a.m. conference call, go into the office in Seattle, meet with employees in the office on projects and talk with people all over the world. From 4 to 6 p.m., she takes the bus home. Later in the evening, she may check in on work again.

" "I have to be flexible," " she says. " "Someone might need me at 11 p.m. It's like triage. I don't have normal work hours. My defining question is 'Can this person move forward?' I may be working with someone in Japan who is waiting for an answer from me." "

Good communication is critical.

" "It's a matter of letting students know, for example, that I will be looking at the online discussion from 4 to 6 p.m. in the evening. You have to be very clear in your expectations for yourself.  I find it very freeing. I can go to the dentist for two hours in the morning and not worry about it. I like it a lot." "

Start with the students

Architect Moa Dickmark also has a global perspective. She is Swedish and lives in Copenhagen, Denmark, where she has a studio called MoHo in partnership with her colleague Heidi Lyng. She speaks five languages. She consults internationally in designing, redesigning, projects in schools, cities and youth centers.

Her advice very much closes the circle back to Ray's experience in Nashville: Always start by asking the students. As she says, " "No one is as good at being a 7-year-old girl as a 7-year-old girl." "

But she doesn't stop there. She asks everyone; in her world, custodians, teachers, students and principals are also experts. Her process when working with students is realistic. In a blog post titled " "Working with kids: The good, the bad and the awesome," " she noted that students have short concentration spans, they need breaks, they sometimes have already lost their imagination in school. They are afraid of giving wrong answers.

In addition, they are hilarious, they get cool and crazy ideas, and they are fun. So in the awesome category, she believes education can overcome all of the negatives. Dickmark begins by asking them to take pictures of three to four types of areas:

 Where they work well in a group.
 Where they work well alone.
 Where they get inspiration.
 Where they go to think.
The students then break into small groups and discuss why things work and don't work. They discuss temperature, light, colors, materials, location. And the design process starts to cook. Above all, she says there are no formulas.

The goal is to create an environment where children want to learn.

" "Unless we learn how to use space as an active part of learning and teach the students subjects such as empathy, sustainability, creativity, problem solving and teamwork, it doesn't matter how mobile or tech-oriented the classrooms are." "

Johnson in Arizona also has concerns about the big picture. He is observing the big move to put everything online, a race to turn everyone into individual, independent learners. The one-size-fits-all approach doesn't sit with him. A lot of personalized, individual learning in digital spaces " "has potential at the secondary level." " But for K-8, he says, " "Students need guidance, they need more inclusive places; they have to be taught to be independent learners." "